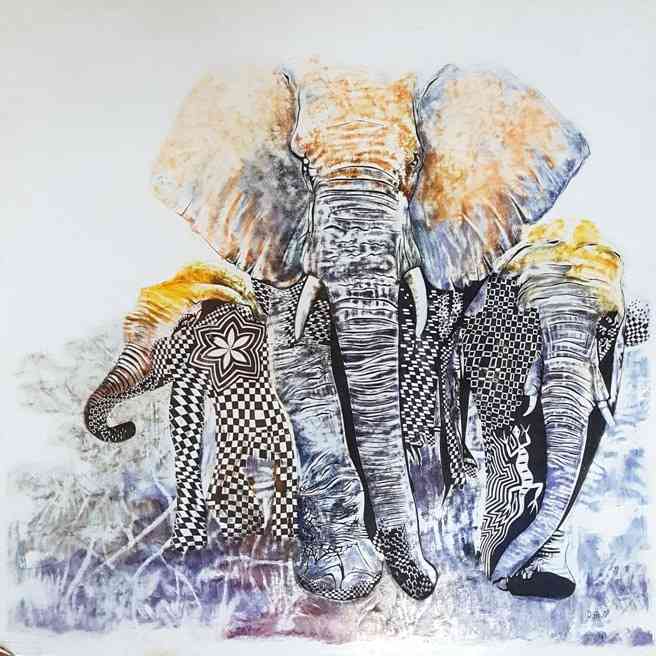 Celebrated local painter Hloniphani Noah Dube, better known as Dialo in the visual arts circles, has secured a week-long exhibition to be hosted at the National Gallery of Zimbabwe (NGZ) in Harare from March 27 to April 2, 2023.
The exhibition will be launched at a vernissage on Tuesday and will be officiated by the Minister of Youth, Sports, Arts and Recreation, Kirsty Coventry, together with the Italian ambassador Umberto Malnati.
The exhibition Dialoism, the exhibition will run under the theme "Murals on the Wall — Reconstructing Reality, Whilst Inspiring Healing".
Born and bred in Bulawayo, Dialo (40) is self-trained, having developed an interest in art when he attended Northlea High School. He trained at Mzilikazi Art and Craft Centre in Bulawayo, from 2001 to 2002. Thereafter, he became a resident artist at the NGZ in Bulawayo.
Dialo's "undisputed talent" earned him a 10-page feature in an international brochure titled Modigliani and the Artists. The brochure was produced on the occasion of the Modigliani Prize by Italian curator, writer and journalist Salvo Nugnes. Amedeo Modigliani (1884-1920) was Italian painter and sculptor whose works are some of the most prized in the world. Dialo has also exhibited his works at the prestigious Venice Biennale, Italy, last year.
In 2010, he started to develop his own artistic style, initially called Woven Lines, with a debut show in Namibia, 2012. He continued to experiment his technique, which he now refers to as "Dialoism". The ingredient of his success as an artist: enthusiasm and grit.
Each of Dialo's artworks is designed to represent mother nature. Dialo intricately cuts, creates, marks or scars his paper canvas with a blade in order to demonstrate mankind tampering "with her" (mother nature) each day.
Moreover, each of the top layers on the canvas is peeled, with drawings being integrated repetitively and colour is then added to them.
Dialo's body of work consists of portraits, landscapes and imaginative compositions, which have been described as a "unique African art movement that takes on a new exclusive approach to celebrating the power of oneness, also referred to as Ubuntu".
The artist's creative process demonstrates healing and the end result is a series of paintings that are curved on paper with a mesmerising graphic effect. The production process takes on a dual approach, which brings to light elements of the conscious and subconscious state of mind, defined by the artist as a mystical dimension; implying a state of immanent transcendence.
As per the artist's description: "Most of my work is built from different geometric shapes inspired by natural textures. The different shapes are joined together to create a beautiful image. This serves as a protest against divisions such as tribalism and racism.
"When the shapes are blended to create beautiful compositions like animals, trees and so on, I recognise the spirit of Ubuntu, the African belief that I am because you are — believing that there is a universal bond of sharing that connects all humanity."
Dialo communicates this theory in his work as a way in which all things are connected through representing reality, emotions and ideas. He makes use of geometrical forms, patterns, biophilia and symbols to compose his subject matter, whilst creating his new visual language.
The different realities, as a collection, should inspire the viewer to become more conscious and aware of their immediate environment. Consequently, the artworks assume the visual form of the ordinary scenes that surround us and capture the various momentary instances that become and tell a story.
Related Topics