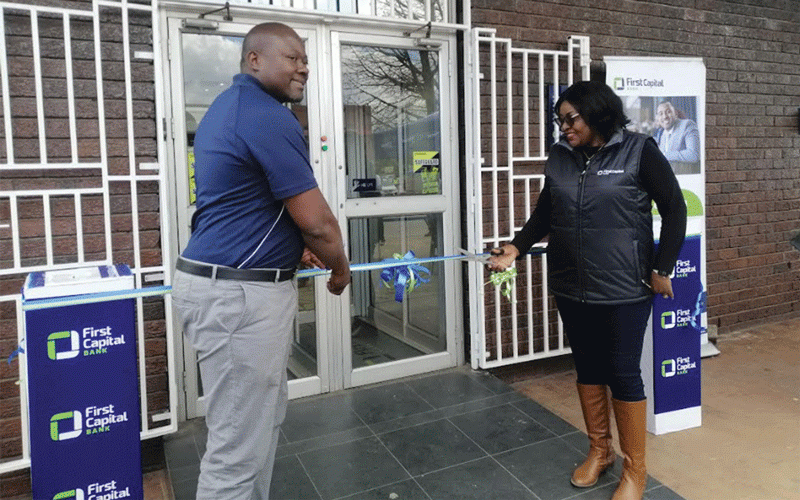 FIRST Capital Bank Limited (FCB) has opened a new branch in Highfield, Harare, as it brings a range of financial services closer to communities.
The launch of the branch, according to a statement released on Saturday, is a testament to the bank's commitment to expanding its reach and providing convenient banking services to consumers.
"This strategic move aims to bring First Capital Bank's comprehensive range of financial services closer to the community, catering to the diverse banking needs of individuals and businesses in the area," the bank said in the statement.
"The new branch is a service centre that offers a wide array of services, including account opening, civil servant loans, transactional services, digital banking registration and money transfer services for Western Union, RIA and Hello Paisa.
"Customers can expect a seamless banking experience, with dedicated staff members ready to assist them with their financial needs."
The regional bank said the opening of the branch aligned with its mission to empower individuals and businesses through innovative financial solutions.
"By bringing banking services closer to the community, First Capital Bank aims to contribute to the economic growth and development of Highfield and its surrounding areas," it said.
FCB consumer banking director Angela Kamhiriri told journalists during the official opening of the branch that they are delivering banking solutions to the country and Africa as a whole.
"We are a regional bank, we understand Africa. So, we deliver solutions for Africa and from that perspective we have really grown. We are very nimble footed. We are able to meet clients' needs when they are required," she said, adding that the banking sector in Zimbabwe was stable.
"I think the banking sector has never been stable, there are huge opportunities and we are looking forward to better times to come. There is a lot of growth and a lot of people coming back from the informal into the formal banking side of things.
"So, there has been steady growth in terms of the outlook and we are seeing that progressing into other areas that have been unbanked over time. So, the future is bright."
FCB head of marketing and communications, Emily Nemapare said: "We don't want people to be travelling all the way to town for some of these services."
The bank has 26 branches across the country, employing over 450 people.
FCB is part of FMBcapital Holdings Plc, which has banking operations in Botswana, Malawi, Mozambique, Zambia and Zimbabwe. FCB offers a comprehensive range of corporate, commercial and retail banking services.
FMBcapital Holdings Plc Mauritius provides banking and finance solutions through its operating subsidiaries in five Southern African Development Community markets — Botswana, Malawi, Mozambique, Zambia and Zimbabwe.
The group has a total asset base of US$971 million, employs over 1 600 staff and caters the financial needs of over 850 000 customers.
Related Topics