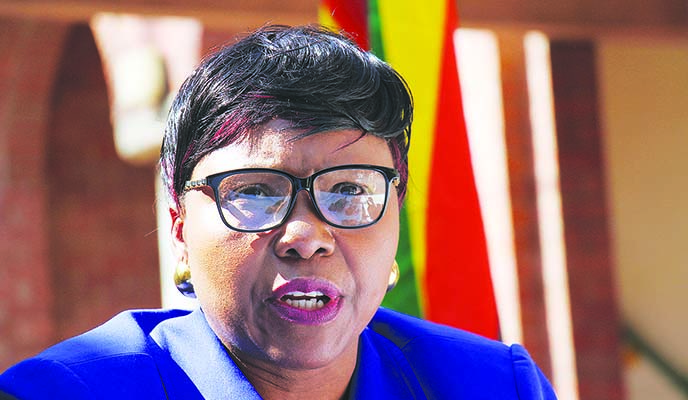 ZANU PF chairperson Oppah Muchinguri has opened up for the first time on the Bulawayo explosion that left her and many others seriously injured during a ruling party campaign rally addressed by President Emmerson Mnangagwa last month.
BY OBEY MANAYITI
Muchinguri and Vice-President Kembo Mohadi were airlifted to South Africa for treatment after they were wounded in the suspected grenade attack, which claimed the lives of two top security aides.
Addressing a campaign rally to drum up support for Zanu PF Dzivarasekwa candidate George Chimhini, Muchinguri said the blast was the work of detractors, some of whom were facing imminent arrest over their well-documented corruption dating back to former President Robert Mugabe's era.
"I am alive. Others speculated in the media that I was burnt and will only reveal it after the elections, while others said I lost my breast and others claimed I lost my hand. Down with them," she said amid a thunderous applause from thousands gathered at Dzivarasekwa Stadium. She said those who were behind the bomb blast feared the Zanu PF leadership under Mnangagwa was closing in on them.
"There are crooks that bombed us. Some of them stole a lot of money and they have multiple farms and they thought by killing the four of us, they can survive," Muchinguri said.
"Some stole houses and land. They wanted to cover their tracks and corruption that we are fighting in our manifesto. However, there is God and ancestral spirits who fought the war that was not meant to be."
Muchinguri also launched a tirade against former police Commissioner-General Augustine Chihuri, claiming he was corrupt and allegedly sent his juniors to take money from the public through unnecessary road blocks.
She alleged Chihuri slipped out of the country to Malawi where he was feasting on his ill-gotten wealth.
Muchinguri described Mnangagwa as a principled man who survived the hostile relationship created by the G40 group and had moved in to correct the mess that was left by Mugabe's administration.
She said Mugabe's administration was captured, hence, could not do anything meaningful for the country.