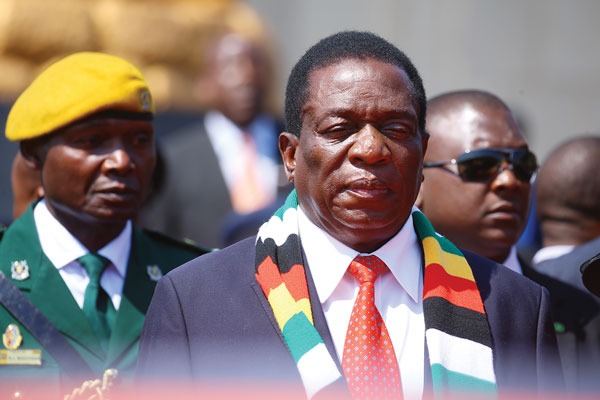 AFTER yesterday's swearing-in ceremony, local and global focus now shifts to President Emmerson Mnangagwa's choice of Cabinet ministers, an exercise likely to be concluded this week. Clearly, the President has a herculean task of getting the country back on track by choosing the economy over his political interests. We have no doubt that citizens expect him to choose his team on merit rather than choosing his tired former Cabinet colleagues over what is beneficial to the public.
Editorial
The majority of the Zimbabwean citizenry is once more anxious to find out if the appointments will inspire hope or deflate the remaining residues of hope they still have.
For many people, the country is damned if a wrong Cabinet assumes the reigns and they are doomed if the old guard, previously labelled as "deadwood", bounced back.
Mnangagwa's litmus test would likely be on his choice of Treasury boss.
It is perhaps one of the few ministerial positions where people give attention to the personal characteristics of the candidate, particularly a technocrat, qualified, young and raring to go.
People don't expect a perfect Finance minister, but would prefer a technocrat with proven expertise, someone who is politically clean and self-assertive enough to resist political pressure to make populist and ruinous decisions.
It is a very unenviable position given the amount of burden the Finance minister will be expected to carry.
But the generality of Zimbabweans care less about how bad the economy is and more about what they expect the incoming minister to address.
The new minister is expected to set new macroeconomic objectives and a new fiscal agenda consistent with the priorities. Some of these priorities are already cut out by public expectations:
 Solving the cash crisis
 Stabilising prices
 Stabilising fiscal management
 Stabilising other key macroeconomic imbalances
 Re-engaging with the International Monetary Fund, the World Bank and other multilateral financial institutions
The ordinary people don't understand much about fiscal policy and financial management—in fact they don't necessarily have to.
What they know is that what has happened over the last 20 or so years is not the right way to run an economy because it resulted in hyperinflation, high unemployment, high economic informality, widespread poverty, infrastructure dilapidation and deplorable social services.
Hence, by expecting reform, they are not asking for too much from Mnangagwa's government.
More importantly, they expect him to get it right on his choice of ministers in key economic sectors/drivers because it is these people who hold the key to the future of this country. In fact, the individuals must get the nation to dream again.
In this respect, the reform should focus on measures that lead to price stability and the availability of cash in banking institutions, get industry to work again and create employment, among other things with a direct impact on the day-to-day life of ordinary Zimbabweans.
This is not to say other ministries are less important. We believe Mnangagwa now has the leeway of even fishing from outside the party hierarchy after the military had its fair share of the cake in the short-lived "new dispensation" whose term ended on July 30.