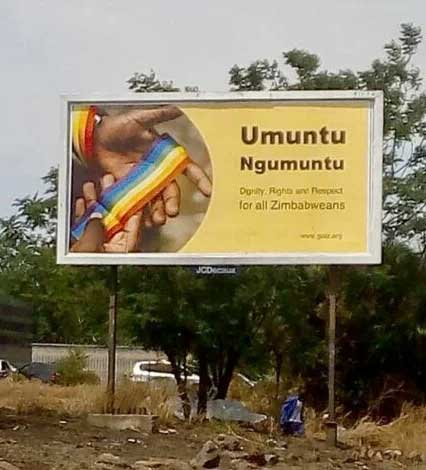 BY TAPFUMANEI MUCHABAIWA
THE Gays and Lesbians of Zimbabwe (Galz), an association representing the rights of lesbian, gay, bisexual, transgender, intersexual and queer (LGBTIQ)people in Zimbabwe on Friday launched a documentary titled Galz 44 as it commemorates its 44 members that were arrested a decade ago.
The launch of the documentary comes exactly 10 years after heavily armed riot police descended on the Galz during the launch of a human rights report titled Galz LGBTI Rights Violation Report 2011 in Harare.
The 44 arrested were later discharged without any charges preferred against them.
Galz communications officer Tanatswa Gumbo said the documentary aims to encourage and appeal to authorities that laws should protect the sex and gender minority groups.
"The documentary is aimed at encouraging and appealing to the law enforcement to ensure that sex and gender minority groups are protected from all forms of harm," Gumbo said.
"The documentary also aims to reflect on some of the violations that LGBTIQ+ people face as a result of their sexual orientation and gender identity."
GALZ said it was deeply concerned over the use of force by police during the August 2012 raid, which culminated in the injury of some members and destruction of properties.
A few days after the police blitz, Galz co-chairperson Martha Tholanah was charged with contravening some clauses of the Private Voluntary Organisations Act which criminalises running an "unregistered" organisation.
However, Galz has so far taken to social media and international fora, advocating and lobbying for the rights of the LGBTIQ.
So far the association has produced various documentaries agitating for the LGBTIQ+ inclusion.
While Zimbabwe continues to outlaw the LGBTIQ, the community insists that they need inclusion in the country's legal framework.
The LGBTIQ claim that they are not being legally recognised making it difficult to access critical and vital services.
Early last month, Zimbabwe received 12 recommendations from United Nations member states at the Universal Periodic Review (UPR)  third cycle. Only two of the recommendations enjoyed the support of Zimbabwe while the rest were noted.
The two accepted recommendations were from Fiji and Iceland. Fiji recommended that Zimbabwe must strengthen efforts to address violence against women, children and against all persons on the basis of their sexual orientation and gender identity while Iceland  recommended Zimbabwe to protect intersex minors from non-consensual surgeries and violation of bodily integrity.
The Zimbabwean delegation,  which was led by Justice, Legal and Parliamentary Affairs minister Ziyambi Ziyambi, maintained its stance arguing that the laws in Zimbabwe are sourced from the values of the people who voted for a referendum which expressly condemns the practice.
Constitutional experts say that the constitution of Zimbabwe does not outlaw LGBTIQ.
Last month the Public Service and Social Welfare ministry launched the Sexual Harassment Policy, which seeks to protect sexual harassment at work places raising hopes for the LGBTIQ community who feel that they are being discriminated at work places.