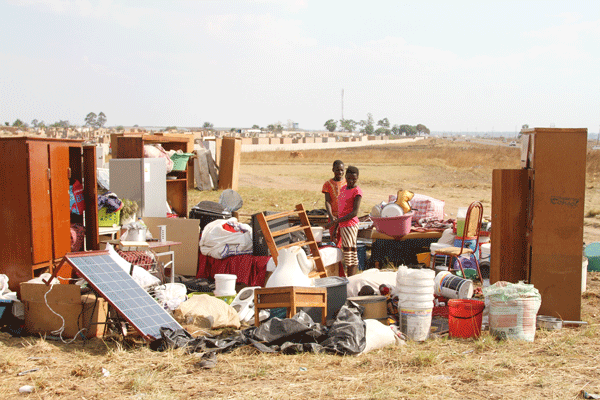 BY MOSES MUGUGUNYEKI
Police officers conducting a demolition exercise in Chitungwiza were feted  with takeaway food by council at a time service delivery has plunged to unprecedented levels in the town.
This publication established that the beleaguered local authority was also buying fuel for vehicles that were used in the exercise including council, Zimbabwe Republic Police as well as Local Government ministry trucks that had been taken from central government.
Chitungwiza Municipality, along other councils within Harare Metropolitan province, has been demolishing roadside illegal structures following a  directive from Tafadzwa Muguti, the provincial development coordinator.
Councillors in Chitungwiza have since distanced themselves from the exercise, reminiscent of the 2005 Operation Murambatsvina (Restore Order).
Government embarked on Operation Murambatsvina with the aim of eradicating 'illegal' housing and informal jobs, an exercise that directly affected close to 700 000 poor urban residents across the country.
Last Monday councils in Harare Metropolitan province got on a demolition exercise targeting illegal structures and businesses on road servitudes and the government said it was enforcing the councils' order.
However, Chitungwiza residents through Chitungwiza Residents Trust (Chitrest) on Thursday got an interim court relief interdicting the continuation of the demolitions, but the damage had already been done.
Despite disapproval of the exercise by councillors and residents, Chitungwiza Municipality last Monday descended on those doing business on roadsides for three days before the court intervention.
It has since been established that council was bankrolling the exercise including buying food for more than 100 officers, including police officers drawn from Chitungwiza's three stations – St Mary's, Chitungwiza (Makoni) and Zengeza, police support unit and Municipality police.
It is alleged that on the first day of the exercise officers were treated to chicken and chips bought from a local food joint. The following day they had the same meal, which was bought from another top class eatery in town and on Wednesday, the cops were again treated to sumptious meals.
Sources said each officer was given a box of chicken and chips.
Council also fuelled the vehicles, including personal cars that would ostensibly be used in the exercise, which could have gobbled several thousands of dollars.
Residents yesterday said they were yet to get such information on who funded the programme.
"We heard that council used its money to do the demolitions. We heard that they bought the food for the officers and fueled the vehicles," said Chitrest director Alice Kuvheya.
"It's surprising that council is able to fund such an exercise when they can't provide residents with essential services.
"We don't have water, garbage is all over the town, no medica. Council workers are not being paid yet they decide to go demolish informal traders' sources of income.
"The traders pay the taxes and rent to the council and the council comes back to them using their money to demolish their structures. It's so inhumane."
Kuvheya said they would make sure every cent is accounted for with regards to the demolitions.
Chitungwiza mayor Lovemore Maiko yesterday did not pick his phone while acting town Evangelista Machona was not reachable.