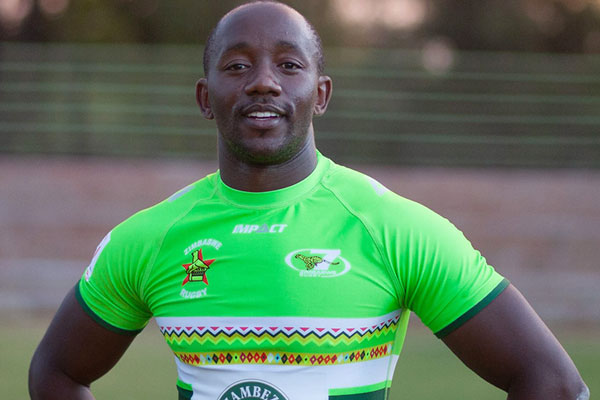 BY DANIEL NHAKANISO
GERMANY-BASED former Zimbabwe rugby sevens star Tafadzwa Chitokwindo insists he has no desire to become a coach following his recent retirement from the sport, but is instead determined to move into the governance of sport.
Chitokwindo recently called time on his playing career after over a decade of service for Zimbabwe, during which time he made a name for himself as one of the country's all-time leading try-scorers in rugby sevens.
The former Victoria High student also had a successful club rugby career in Germany where he has been an integral member of the Rugby Bundesliga side TV Pforzheim since 2013.
After calling time on his playing career for Zimbabwe, the 31-year-old former Cheetahs livewire wing is now keen to move into the administration of rugby or sport as a whole and has set his sights on a position in the boardroom.
"Maybe I'm just doubting myself, but I don't see myself as a coach in the future but I'm not completely ruling it out. I'll probably come back looking for an administrative role at the Zimbabwe Rugby Union or even at the Zimbabwe Olympic Committee since rugby sevens is now an Olympic sport. I'm looking to do a number of sports management courses to see how I can better position myself in these unions and organisations."
Chitokwindo qualified for two Rugby World Cup Sevens while he was also part of the Cheetahs squad, which came agonisingly close to attaining core status on the HSBC World Sevens series and qualification for the Olympic Games on two occasions.
During his sterling career, Chitokwindo carved a special place and name for himself as arguably one of the finest finishers the country has ever produced in rugby sevens alongside legends such as Gardner Nechironga, Wensley Mbanje, Tangai Nemadire, Gerald Sibanda and Karl Mudzamba just to mention a few.
In addition to being a gifted sportsman, Chitokwindo, who went to Victoria High School and Kyle College before enrolling at Rhodes University in South Africa was also an equally talented student in the classroom.
Chitokwindo holds two degrees, a Bachelor of Commerce (Economics and Management) from Rhodes University and a Bachelor's in Business Administration/Digital Enterprise Management, from Pforzheim University of Applied Sciences in Germany.
He recently ventured into the corporate world in the European country, where he now holds a management position with an international technology company.
Chitokwindo says pressing working commitments was one of the reasons behind his decision to call time on his career, despite many believing he still had a lot to offer both for the Cheetahs and Sables teams.
"It's just a matter of too many things now on my plate and I just have to sacrifice one or two things and rugby happens to be one of them. I have enjoyed rugby, I've loved every outing, tour and the opportunity to represent my country but sadly like I've said before everything that goes up comes down eventually, so this is me landing.
He added: "In the corporate world there are not enough days off and these guys will not give me special treatment because I play rugby. So, it's just me looking after the job and seeing what the future holds for me."
Chitokwindo said he had planned to have one last crack at helping the Cheetahs qualify for either the Olympics or the HSBC World Sevens Series, but his plans were hampered by the Covid-19 which brought the sporting world to a screeching halt a couple of years ago.
"Of course, the decision was hard but it's been a long time coming. I think I first announced to my teammates in the Cheetahs squad that I would retire if we don't qualify for the Olympics and since the Covid-19 pandemic we haven't managed to play that one last tournament, so I've just been holding back. My last hope was to play at the Olympics, which would have made it a very successful career, but it seems like it's not going to happen, unfortunately, the road has to come to an end now," he said.
While Chitokwindo's playing career with Zimbabwe has come to an end, he could in the near future embark on another sporting career, only this time in the boardroom.
Related Topics