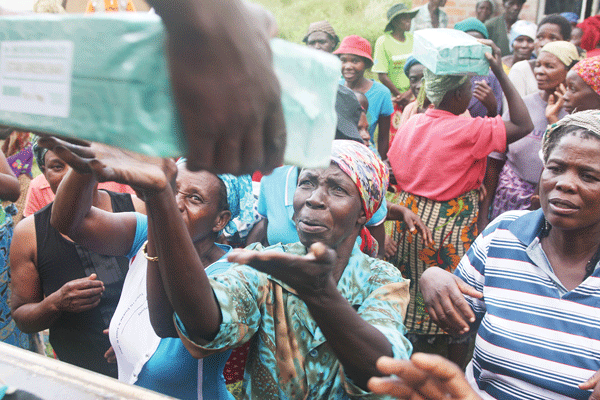 TSHOLOTSHO flood victims have appealed for more aid in the form of blankets, food and tents, among others, as the resources at their makeshift camp at Sipepa Clinic can no longer cope with the huge population.
By NQOBANI NDLOVU
Camp manager, Andrew Gabela told Southern Eye on Monday that about 800 flood victims were temporarily housed in overcrowded tents at Sipepa Clinic, amid fears that the numbers could increase, as more villagers seek refuge at the site following the destruction of their houses.
"We were not ready. We did not expect that these rains will cause so much damage. We did not have any food, blankets and shelter to give to the victims. Fortunately, we have got assistance from several aid agencies, companies and individuals, but we still face huge challenges," he said.
"We need more tents because there is overcrowding. We need more blankets, as we still have people with no blankets.
We need clothes, toiletries, oral care in the form of toothpaste and toothbrushes, sanitary ware and Vaseline (jelly). We also have a shortfall of about seven temporary toilets because we cannot take a risk, lest there is an outbreak of diseases."
Aid agencies such as the Red Cross Society of Zimbabwe (ZRCS), Plan International, United Nations Children's Emergency Fund (Unicef) and others have come to the aid of affected villagers, providing food, tents and toilets, but the situation remains dire. The worst affected villages include Mahlosi, Mahlaba, Thamuhla, Mbamba, Mele, Lutshome, Maphili and Mbanyana.
"Unicef has donated some classroom-size tents for use as classrooms. They also provided learning materials, such as exercise books, but unfortunately, there is no furniture. We need furniture for these temporary classrooms."
Pupils from Mathuphula and Mahlaba primary schools have since been integrated at Sipepa Primary School.
ZRCS national president, Edison Mlambo said the aid agency stood ready to provide more assistance to the Tsholotsho flood victims.
"We have done our best. We are the first responders, and we will be the last to leave this place. At the present moment, there is need for more tents, as families are overcrowded. We will also arrange that a generator be brought here to ensure a steady supply of water, should there be an electricity outage," he said.
President Robert Mugabe on Friday donated 10 000 tonnes of mealie meal and other groceries to assist the flood victims at the camp, while government is also considering relocating them to higher land, where there is less risk of flooding, as a permanent solution.