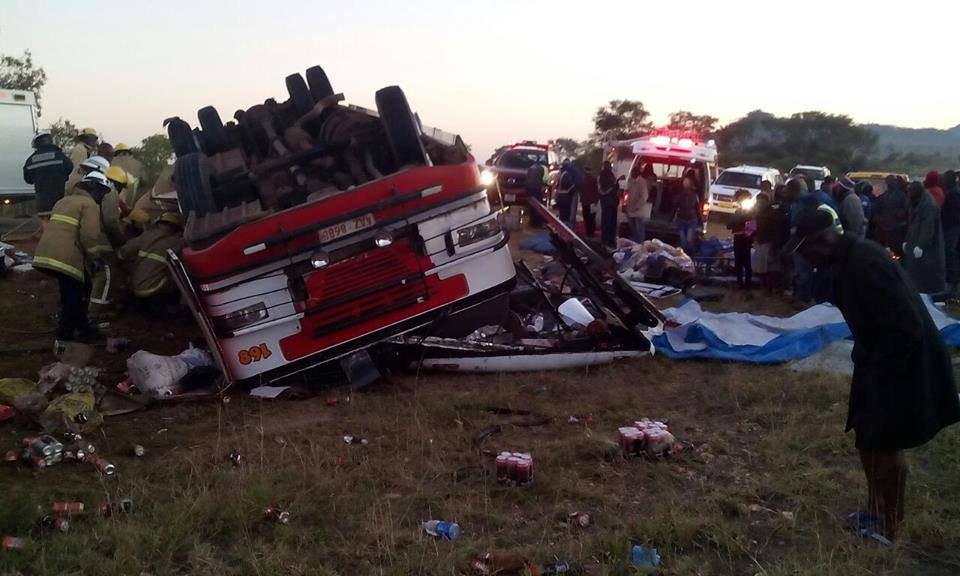 The Midlands region ranked top of three other provinces in road fatalities and the number of injured people between March to June, the Traffic Safety Council of Zimbabwe (TSCZ) has said.
by Stephen Chadenga
According to the TSCZ Major Road Crashes Overview for the period between March 3 and June 11, the province recorded 48 deaths and 66 injuries from three road accidents, two that occurred on the Kwekwe-Gweru Highway and one near Shangani.
The March 3 accident — that killed 31 and injured 36 people — was a head-on collision between a Pfochez bus and a commuter omnibus, while on April 2 another 10 people died as 13 others were seriously injured following a head-on collision between a kombi and a pick-up truck.
Last Saturday, seven Dynamos Football Club supporters perished, while 17 were injured when their hired bus burst its rear left tyre and veered off the road and rolled three times.
TCSZ operations and research director, Proctor Utete recently blasted kombi drivers for snubbing a driving competition organised by the TSCZ Midlands region.
"It is unfortunate that kombi drivers decided to snub this competition and if you analyse closely, you realise most of them (kombi drivers) do not have defensive driving, re-test certificates and the requisite age to be eligible for driving public transport vehicles," he said at the TSCZ Midlands region driver of the year awards ceremony in Gweru early this month.
The majority of major road accidents recorded so far this year involve kombis.
During the same period, Mashonaland East recorded 15 deaths and six road-related injuries following a head-on collision between a truck and a commuter omnibus near Dzandura Village along the Harare-Hwedza Road on May 26.
Manicaland province also had 15 road fatalities and 10 injuries in yet another head-on collision on June 3 involving commuter omnibuses along Mutare-Chimanimani Road.
Matabeleland South province on April 14 recorded 12 fatalities and 44 injuries when a conventional bus collided with a haulage truck near Beitbridge town.
TSCZ said the country, which has a vehicle population of about one million cars, records 2 000 deaths annually due to accidents.