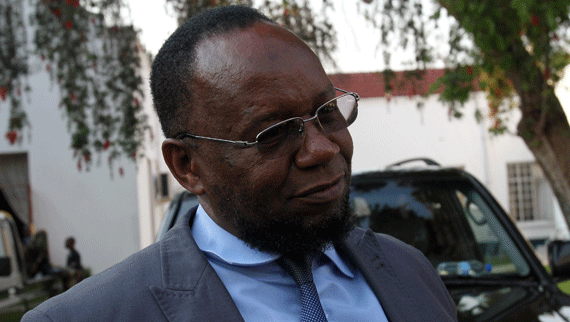 TONGA language will be introduced as one of the examinable subjects at A' Level beginning next term if the Civil Service Commission (CSC) provides the required teachers.
BY NQOBANI NDLOVU
Primary and Secondary Education minister Lazarus Dokora told Senators last Thursday that everything now hinged on the availability of teachers.
"I did say there is interplay of ministries on this matter. Those (CSC) that give us the establishment and those of our people in the line of duty, who confirm the statistical evidence that is required," he said.
Primary and Secondary Education minister Lazarus Dokora [/Caption]
"I said, while there has been this delay (introducing Tonga at A-Level), we will continue to facilitate so that even if it means starting those (Tonga) classes by end of this term, we will facilitate that to happen."
The minister was responding to a question from Binga Senator Chief Siansali, who had asked why there were delays in introducing Tonga at A' Level. Dokora explained that there were a number of variables, which included other ministries, and it was not entirely up to the Education ministry to tell when Tonga classes would start at A' Level.
"The material challenges at the beginning of this term relate to a number of factors, some of which are not entirely domestic to my ministry — to do with staffing, size of establishment," he said.
"The establishment is given to us by the PSC, but for them to do so, as well, requires us to first of all confirm the numbers of learners that we have in the system.
"In the first term of every year at this time, there are a lot of challenges to be able to confirm with certainty our enrolment numbers so that we can get the establishment and then try to align the teacher deployment to the various communities in the languages that we are trying to escalate.
"The senator can be rest assured that at the earliest opportunity, we will escalate the language to A' Level, even if it means we will begin closer to the end of the first term."
The Constitution recognises Tonga as one of the official 16 languages alongside Ndebele, Chewa, Chibarwe, Kalanga, Koisan, Nambya, Ndau, Shangaani, sign language, English, Sotho, Tswana, Venda, Xhosa and Shona.
Under section 6(4) of the Constitution, the State must promote and advance the use of all languages used in Zimbabwe, while creating conditions for their development.
However, Ndebele, English and Shona have for years been principally examined at schools, ignoring others, until in 2011 when Tonga was examined for the first time during Grade 7 examinations.
At Ordinary Level, Tonga was first examined in 2015.