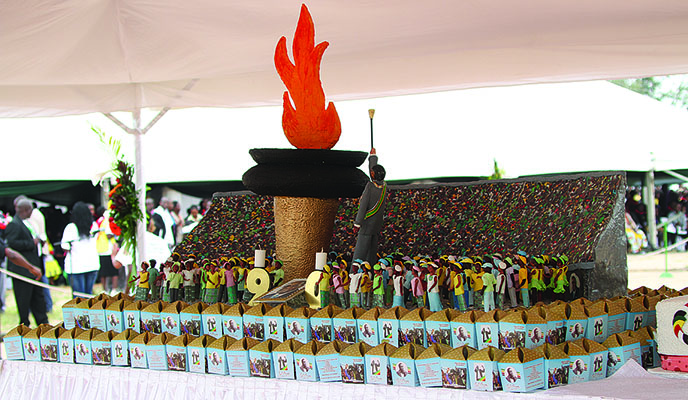 OPPOSITION parties yesterday piled pressure on President Robert Mugabe to cancel his 92nd birthday bash scheduled for the drought-stricken Masvingo province next week and instead channel all resources mobilised for the banquet towards feeding starving villagers.
BY BLESSED MHLANGA/KHANYILE MLOTSHWA
Former Finance minister and Mavambo/Kusile/Dawn leader, Simba Makoni said it would be cruel and insensitive for Mugabe to feast on a 92kg cake amid poverty and hunger in the country.
He also challenged the Zanu PF leader to take a cue from Tanzanian President John Magufuli and cut all excessive State expenditure and concentrate on rebuilding the ailing economy.
One of President Robert Mugabe's 90th birthday cakes
"President Magufuli cut out State ceremonies, yet we must squeeze hard-earned dollars from people, for someone's big ego trip. Our dear leader is preparing a big birthday bash, with a 92kg cake, in Masvingo province among starving people," he said.
Zanu PF national youth secretary Pupurai Togarepi said the party was working towards raising $800 000 for Mugabe's bash, amid reports that rural folk were being forced to fund the extravaganza.
"Families in the hosting province are being coerced to contribute 'voluntarily' $1 towards the birthday bash," Makoni continued.
"How cruel and uncaring at a time the chiefs and headmen in those areas are appealing for food assistance, and for ways of saving their dying livestock."
MDC-T spokesperson Obert Gutu said: "Just imagine how many tonnes of maize can be bought using the $800 000 budgeted for Mugabe's birthday bash in Masvingo."
According to Zambia's Grain Millers Association a tonne of maize delivered to Zimbabwe costs $280.
In a related matter, scores of Zimbabweans based in South Africa have threatened to march to the Zimbabwean Embassy in Pretoria today to deliver a petition imploring Mugabe to cancel his birthday bash.
The march, a brainchild of the Liberal Democrats of Zimbabwe, brings together numerous Zimbabwean organisations in South Africa.
One of the organisers, Ngqabutho Mabhena, said proceedings of the day will start with a Press briefing before a march to the embassy.
"We have no problem in President Mugabe celebrating his birthday," Mabhena said.
"The challenge we have is when the whole Head of State will go out and splash out thousands of United States dollars in the face of poverty and drought. Millions of poor families go to bed (on empty stomaches) while the ruling class is chocking from over-eating. This must stop.
"It can't be correct that the Vice-President (Emmerson Mnangagwa) is calling for food aid from donors when on the other hand they spend thousands on a one-day event.
"We call on President Mugabe, for once, to show his Pan African agenda by ensuring that the money that is going to be spent on his birthday celebrations is used in buying food to be distributed equally to poor villagers. Our petition calls on this regime and President Mugabe in particular, to cancel this celebration and direct these resources to poor communities."
Mugabe's 21st February Movement celebrations have generated a lot of controversy, with Zanu PF youths advocating for the day to be declared a public holiday.