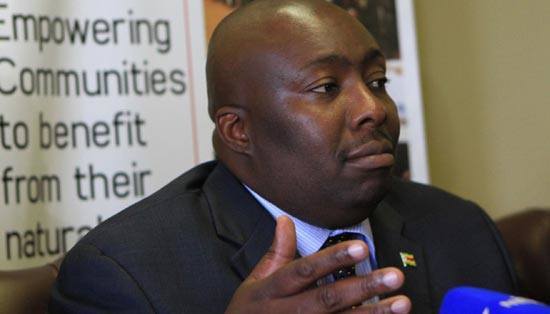 GOVERNMENT has given Gwanda Municipality the greenlight to go ahead with its proposed pre-paid water meter project to enhance revenue collection and improve service delivery despite protests by residents.
BY OWN CORRESPONDENT
Addressing stakeholders during a familiarisation tour of Gwanda town last Thursday, Local Government minister Saviour Kasukuwere said the municipality should not be intimidated by the "madness in Bulawayo" where residents have taken to the streets in protest over pre-paid meters.
Gwanda mayor Knowledge Ndlovu had told Kasukuwere that the town was reeling under a serious water shortage due to water-rationing by the Zimbabwe National Water Authority (Zinwa) who have been cutting supplies to force the local authority to pay part of its $7 million debt.
"Zinwa has been rationing us because we are unable to pay the millions we owe them and the solution will be for them to hand us the water treatment plant. The other thing is that most residents are not paying their bills and we are in the process of introducing pre-paid water meters, but we have seen people protesting and using this to gain political mileage," Ndlovu said.
In response, Kasukuwere said: "Pre-paid meters is the way to go, you have my full support and don't worry yourself with the madness in Bulawayo. Most people have two cellphones which are prepaid and so people should be able to use the same system on water."
Early this month, more than 1 000 Bulawayo residents took to the streets, protesting against the city council's plans to install pre-paid water meters at their households. The residents also threatened to vandalise the gadgets once they were installed at their properties arguing that commodification of water was a human rights violation.
Former Gwanda councillor Alderman Petros Mukwena says the municipality should not solely put the blame on residents as government departments and parastatals owed the municipality more than households.
"Government departments and parastatals owe the municipality over $5 million whilst the municipality also has its own schools and clinics where they have not been paying for water. Residents owe just under a $1 million," Mukwena said.
Meanwhile, the water crisis in Gwanda reached unprecedented levels over the weekend as the town went dry raising fears of an outbreak of water-borne diseases. Zinwa has over the past two months resorted to water-rationing arguing water levels were now low.
Most schools have resorted to shutting down toilets and ordered pupils to bring their own water to school as the crisis deepens.