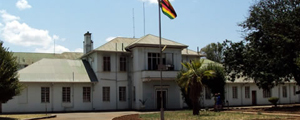 THE United States Agency for International Development (USAid), through the International Union against Tuberculosis and Lung Disease, has donated equipment worth $26 767 to Gweru's Mtapa Isolation Clinic. by Stephen Chadenga
The donation was part of efforts to revamp the Midlands capital city's oldest health centre.
According to a latest report of the city council's health and housing committee, the donated equipment included desks, chairs, benches with back rests, solar backup system, computers, water dispensers, projector and a CD4 count machine,among others.
"I have pleasure in informing you that USAid decided to donate the equipment to Gweru City with a total cost of $26 767 with effect from 1 May 2015," read part of a letter from the International Union against TB.
The CD4 count machine will go a long way in ensuring that fast tests are taken to initiate people living with HIV and Aids onto anti-retroviral therapy.
Last year's report by the city's health department revealed that Mtapa Clinic and Isolation Hospital were operating without incinerators resulting in the dumping of clinical waste in open spaces.
Related Topics