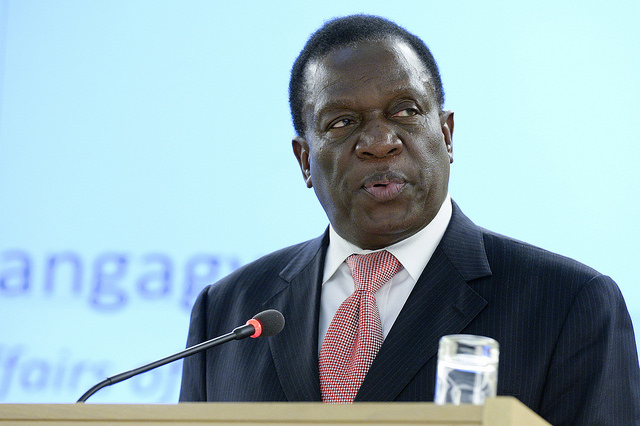 VICE-President Emmerson Mnangagwa yesterday begged Bulawayo residents for forgiveness for government's failures while also pleading with Zanu PF officials not to defect to other political parties.
by NQOBILE BHEBHE
Speaking at a poorly attended campaign rally at White City Stadium to drum up support for five Zanu PF candidates ahead of Wednesday polls, Mnangagwa said officials should not be deterred by problems in the ruling party.
"It might be hot or cold in Zanu PF, but please stay with the party. That's our heritage," Mnangagwa said in an apparent reference to 141 senior officials who have been suspended on allegations of being sympathetic to axed former VP Joice Mujuru.
However, he warned "wayward" party members that they would be fired saying no single official was bigger than Zanu PF.
"Anyone can go into Zanu PF pocket but no one can put Zanu PF into his or her pocket. But if you develop that spirit of privatising Zanu PF, you will be burnt," Mnangagwa said.
"Zanu PF has one champion and that's [Robert] Mugabe. The rest of us follow. Once you know and accept this, you will stay long in the party. Zanu PF does not split."
Zanu PF fears disgruntled people could join People First, a new party linked to Mujuru and several other former Zanu PF officials fired on allegations of trying to topple Mugabe from power. Information minister, Jonathan Moyo last week made a veiled warning to Mujuru against joining opposition politics.
Mnangagwa said government was concerned about Bulawayo.
He said government had an array of programmes to revive the city's collapsed industries.
Mnangagwa said international firms were keen to invest in Bulawayo and government was in the process of creating a friendly investment climate.
"Here in Bulawayo many companies have closed and so what can we do about it? It's a major problem," he said.
"No country can develop on its own. Under special economic zones, Bulawayo is of major focus. Bulawayo needs to attract global companies to invest and there are companies which are searching for space to relocate and set up manufacturing firms," he said.
Five by-elections are due in Mpopoma, Lobengula, Pumula, Makokoba and Luveve constituencies.
Zanu PF has fielded candidates who will battle it out with Zapu and scores of independent candidates who have upped campaigns through holding a series of door-to-door meetings in all five constituencies.
The ruling party has not won a single seat in Bulawayo since the formation of the MDC in 1999