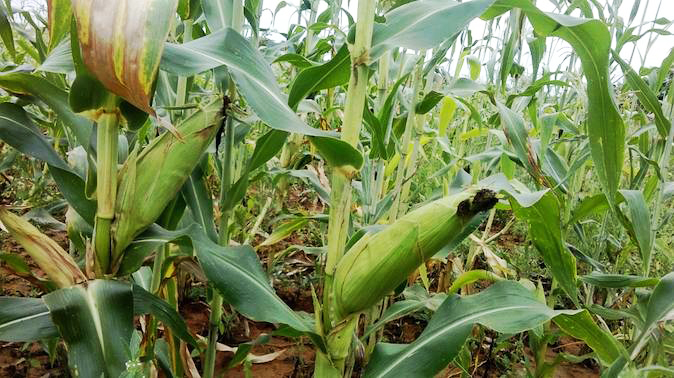 BULAWAYO- For many years, Miriam Hlabangana, a farmer in Gwanda, about 150 kms south of Bulawayo, planted and harvested enough maize to not only feed her family but sell some excess to buyers from Bulawayo and beyond.
BY MARKO PHIRI
That abundance was the product of the small piece of land her late husband was allocated by the government about 15 years ago, at the height of Zimbabwe's land reform programme, and the government support she received in the form of fertiliser and maize seed – as well as her own hard work on the land.
But in the past few years everything – the free fertiliser and seed, even the rain – has disappeared, she said.
"I am now asking my (grown) children to send mealie meal from South Africa," Hlabangana said, referring to the ground maize that is a staple food in the region.
Her grain silo is nearly empty, at a time of year when she normally would have been busy with a winnowing basket, preparing maize for customers.
In Zimbabwe, cuts in government subsidies for small-scale farmers and a shifting climate that has altered planting seasons and brought long dry spells has made working the land much harder for the country's subsistence farmers.
"I have the land, but I don't know what do anymore because of successive poor harvests," Hlabangana told Thomson Reuters Foundation.
Already millions of Zimbabweans in the rural areas, where up to 70 percent of the country's population live, will require food assistance this season according to assessments by the government and the Famine Early Warning System Network (Fewsne).
President Robert Mugabe in May assured farmers such as Hlabangana that they will not starve, as the government was putting in place measures to provide food assistance.
But Hlabangana, like many other farmers who previously provided the bulk of the country's maize reserves, say being fed by someone else is humiliating.
"I want to eat the fruits of my own labour," she said.
Zimbabwe's maize harvest is expected to fall by 35 percent this year compared to 2014, according to the U.N. Food and Agriculture Organisation.
That means the country will need to import about half the maize it requires in 2015, at a time when harvests in neighbouring South Africa and Zambia, its regular source of imports, are also falling.
Small-scale farmers – including beneficiaries of the country's land redistribution programme, which saw land seized from white farmers – contributed 80 percent of Zimbabwe's total maize production during the 2013-14 growing season.
Joseph Made, the country's agriculture minister, blames the declining harvests on climatic shifts that have cut rainfall to the country's rain-fed fields.
Declining government support is also playing a role, however.
During the 2013-14 growing season, the government pumped $161 million in free maize seed and fertilizer into 1.6 million household farms, according to Finance Minister Patrick Chinamasa.
But Zimbabwe's 2014 Agriculture ministry budget has fallen by more than half, from $390 million in 2013 to $174 million in 2014, Chinamasa said.
That has resulted in less money to support small-scale farmers this season, Chinamasa said. He accused banks of being reluctant to step in and offer cheap loans to farmers to help make up the shortfall.
However, many resettled farmers in Zimbabwe do not have title to their land, which prevents them from accessing bank loans, experts said.
Amid these funding challenges, the UK's Department for International Development (DFID) in March released $72 million to assist smallholder farmers in three of the country's 10 provinces with irrigation infrastructure.
Matebeleland South, Hlabangana's province, is not among those benefitting.
Brazil, also in May, advanced a $98 million dollar loan to Zimbabwe, through its More Food for Africa Programme. The money will pay for tractors, tillers and rehabilitation of irrigation schemes.
However, Tapuwa Mashangwa, an agro-business consultant based in Bulawayo, said small-scale farmers need more help to reclaim their place as major contributors to Zimbabwe's national food security.
That includes, among other things, the creation of more water reservoirs and better drainage systems to help deal with worsening weather extremes, such as drought and flooding, he said.
"It is not a case of one solution solves all," he said.
In May, the Economist Intelligence Unit's annual Global Food Security Index (GFSI) said policy and infrastructure changes were driving improvements in food security in sub-Sahara Africa.
Zimbabwe, however, appears to be going in the opposite direction as lack of support to small-scale farmers like Hlabangana, worsening weather and problems like unclear land ownership hit efforts to build production, experts said. (Reporting by Marko Phiri; editing by Laurie Goering :; Please credit the Thomson Reuters Foundation, the charitable arm of Thomson Reuters, that covers humanitarian news, climate change, women's rights, trafficking and corruption. – Reuters