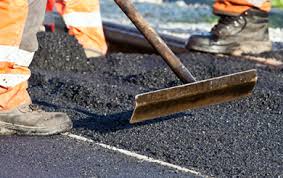 Bulawayo City Council has set aside over $1 million for training and payment of residents engaged to carry out road maintenance programmes.
BY NQOBANI NDLOVU
According to a report by the council's environmental management and engineering committee, over 70% of Bulawayo's road network is in a bad state, characterised by numerous potholes.
The report said an estimated area of 51 000m² will be covered by ward teams supervised by a representative of the council's engineering services department.
The total cost of the project is $1 030 591, with $271 584 reserved for labour costs while $745 235,92 and $13 771,69 would be for materials and hiring of tools for the pothole patching programme respectively.
"Patching in the central business district will be covered by council teams, but to avoid prejudicing the ward, the ward group will be engaged to carry out street sweeping, catch pit opening and medians clearing," the report said.
"Total number of groups for the exercise is 34. The wards will be grouped together into four clusters based on location for ease of supervision.
"Each group should be composed of about 12 members, whose duties would include preparing the mix (batching & mixing), burrowing, preparing the area, filling of potholes and compaction.
"Councillors will be expected to assist in identifying members of the community within their respective wards."
Council would hold a one-day training and demonstration programme for the selected ward teams.
"A representative of the director of engineering services shall identify roads to be patched based on the road classification, the extent of potholes and the results of the road condition survey conducted," the report said.
"Materials should be dumped at an approved site along the selected road for the convenience of the group.
"Each group is expected to work for 30 working days covering an area of about 1 500m2 of road patching (approximately 400 to 500m). Payment will be based on measured works according to the area covered."