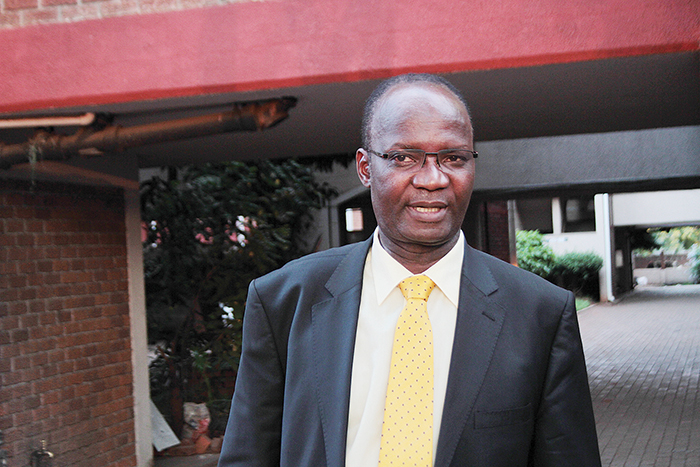 Chief Matupula in Tsholotsho North Constituency has declared unreserved allegiance to the ruling Zanu PF party and ordered his subjects to vote for Information, Media and Broadcasting Services minister Jonathan Moyo in the Wednesday by-elections.
BY NQOBANI NDLOVU/SILAS NKALA
Moyo is campaigning for the Tsholotsho North seat on a Zanu PF ticket.
Addressing a campaign rally at Dibutibu in Tsholotsho over the weekend, Matupula said villagers must rally behind Moyo whom he described as having a lot of potential to develop the constituency.
"Our son, who has been in Harare has come to us. He will bring development here, we must vote for him," Matupula said referring to Moyo.
Matupula said with the people's mandate, Moyo would fulfil all election promises.
Villagers in Tsholotsho North have expressed fear that the 15 boreholes that the government and Zanu PF officials pledged to drill in their drought-prone area might not be delivered after the Wednesday by-elections.
Ward 8 villagers said they suspected that they were sold a dummy when Environment, Water and Climate minister Saviour Kasukuwere, who is also Zanu PF political commissar, pledged to deliver the boreholes during a recent campaign rally for Moyo.
"It is the election season and this is the only time we see promises being fulfilled. We are used to these fake promises and with the election day fast approaching and no activity taking place towards the drilling of boreholes, we fear that they will forget after we vote just like before and only come back and promise us boreholes again in 2018," said Mizikayifani Ndlovu from Nxuma area in Mbiriya village.
Liver Sibanda of Karani area added: "We are the forgotten lot. We have faced water shortages for years and travel long distances for the precious liquid. We have no functioning boreholes in our area. It's an indictment of government neglect and though Kasukuwere promised us boreholes, we do not trust him because that is what they have been saying all along towards elections."
Kasukuwere told Zimbabwe National Water Authority workers at the drilling of two boreholes at Phondo Line in May to sink a further 15 spread across the constituency at an average of two per ward. Most boreholes in Tsholotsho North were sunk by the colonial regime between 1937 and 1956 to cater for the then small communities. A number of them have broken down, forcing villagers to travel long distances.
Moyo has on several occasions lamented the shortage of boreholes in the constituency. Last Thursday, he satirically said Tsholotsho could easily be compared to the Lobengula days, as if to further confirm the government's neglect of the area since independence in 1980.
He, however, blamed the opposition MDC-T legislators for doing nothing to improve infrastructure in the constituency.
Ironically, Tsholotsho is home to the late Vice-President John Nkomo and long-serving Zanu PF governor Cain Mathema.