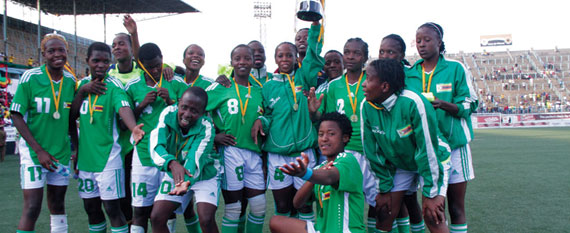 Football Association of Zambia (FAZ) vice-president, Boniface Mwamelo says he was disappointed with Zimbabwe's allegations that Shepolopolo striker, Barbara Banda is male.
Sunday's Rio Olympics qualifier between the two teams at Nkoloma Stadium was delayed for 30 minutes as Zimbabwean officials demanded Banda be subjected to a gender test.
Mwamelo, however, said the allegation was just a strategy to destabilise Zambia's game plan.
"It is very unfortunate that Zimbabwe has brought up this issue at the last minute because it should be done in the spirit of fair play," Mwamelo said.
"As an association, we are very disappointed with Zimbabwe in the way that they took away the basic tenets of fair play."
Mwamelo said the conduct was part of Zimbabwe's mind games, knowing that Banda was one of Zambia's key players.
He accused Zimbabwe of not following the prescribed procedures under the International Olympic Committee for the gender test to be performed.
"We explained this to the match commissioner, but Zimbabwe did not comply, so we told them that they could play under protest if they wanted," he said.
Mwamelo said the issue of gender testing should be carried out in a manner that does not take away the dignity and self-esteem of the player concerned.
"Gender testing does not only involve taking the player in question and undressing them. It's a more detailed test. That is why it's called gender verification," he said.
He said that was why the IOC abolished the mandatory gender testing in 1999.
"The fact that Barbara has got no breasts does not mean that she is not female," Mwamelo said.
"The fact is that we have men who have breasts and we can't say that they are female.
"As you know, Barbara is female and moreover she still fights.
"She is in boxing under Oriental as a female boxer."
Banda scored Shepolopolo's second goal in the 2-1 win over Zimbabwe.  – The Post