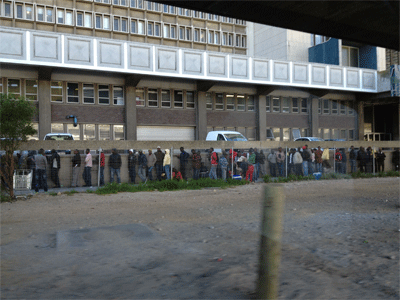 Zimbabweans still dominate the number of new asylum seekers in South Africa despite a special dispensation programme meant to cater for the undocumented immigrants in that country.
BY STAFF REPORTER
South Africa's Home Affairs deputy minister Fatima Chohan told a parliamentary committee last week that the special permits first given to Zimbabweans in 2010 and renewed this year were meant to decongest Pretoria's asylum data base.
Chohan said the move had not brought the desired results as Zimbabweans economic refugees continued to flood South Africa.
"Zimbabwean nationals are still the largest category of new asylum applicants," she said.
"One of the objects of the Zimbabwean special dispensation was to remove from the asylum data base the large number of economic migrants from Zimbabwe, who circumvented our immigration processes and used our refugee reception centres to regularise their work and stay in South Africa."
She said instead of reducing the number of asylum seekers from Zimbabwe, the special dispensation had resulted in an influx of economic refugees from across the Limpopo.
"One of the lessons we have learnt from this special dispensation is that far from reducing the number of Zimbabwean nationals in the asylum system, it has encouraged many more Zimbabweans to enter the asylum system in the hope that South Africa would further extend the special dispensation accorded to Zimbabweans," Chohan said.
South Africa early this year said 245 000 Zimbabweans would benefit from the special work and business permits.
However, it is believed that the majority of immigrants remain undocumented.
The actual number of Zimbabweans in South Africa is not known with the media speculation that between one million and three million economic refugees have found sanctuary in that country.
Illegal immigration across the Limpopo took centre stage last month in the aftermath of the xenophobic attacks that rocked South Africa. Zimbabwe repatriated 1 000 people who were affected by the xenophobic attacks.
President Robert Mugabe refused to take responsibility for the influx of Zimbabweans in South Africa, saying most people were misled to believe that the neighbouring country was a "heaven".
Mugabe torched a storm when he said Kalangas were uneducated and were to blame for petty crimes in South Africa.
He thanked South Africa for taking care of the economic refugees even though they offended their hosts.
"You know that we owe you not just a gesture of thankfulness, which we must express, but we owe you that thankfulness for the tolerance there has been on the part of the government here, as our people have really offended your system by jumping the border and disturbing even the social system here," Mugabe said during a State visit to South Africa.