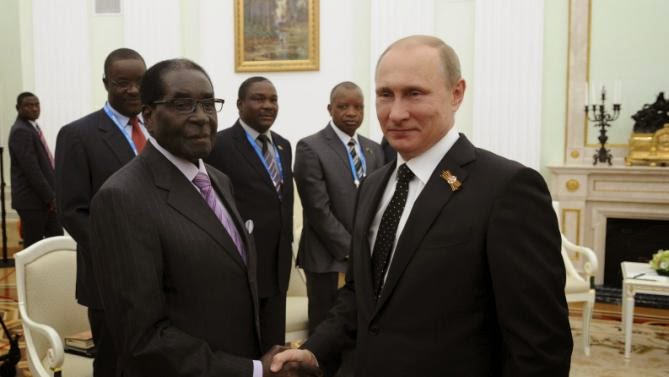 Moscow – Russian President Vladimir Putin today welcomed Zimbabwe President Robert Mugabe in the Kremlin.
"I am very pleased to talk to you about both our bilateral relations and the development of Russia's relations with the whole African continent bearing in mind that you are now also a chairman of the African Union," Putin said.
Mugabe, who came to Moscow to take part in celebrations of the 70th anniversary of the World War Two victory over Nazi Germany, thanked Russia for standing up to the West.
"True, there has been a disintegration of the Soviet Union. But Russia has remained because it was a core of that Union anyway and we are happy that you have resisted onslaughts from the United States and Europe," Mugabe told Putin.
The 91-year-old Zimbabwean president, in power since independence from Britain in 1980, was re-elected for another 5-year term in 2013.
Western countries have withheld financial aid to Harare in protest over Mugabe's policies and charges he has rigged elections to stay in power, worsening an economic crisis that has driven millions of Zimbabweans out of the country.
"So you have sanctions, we have sanctions," Mugabe said laughing as Putin smiled.
"And just America, the imperialistic, on the top of it all with Europe just following. And that's the reason why we should remain together, and why we celebrate with you this emergence of Russia as we saw it yesterday," Mugabe added.
Worsening relations between the West and Russia have also cast a shadow over this year's parade, with many Western leaders not attending the celebrations in Moscow. The Western boycott is intended to show displeasure over President Vladimir Putin's support for pro-Russian separatists fighting government forces in east Ukraine.
The guest list for the military parade had come to embody Russia's place in the world as it struggles to avoid being isolated over the events in east Ukraine.
Since Western powers imposed economic sanctions on Russia last year, Moscow has accelerated attempts to build ties with Asia, Africa and South America, as well as warming up relations with its former Soviet-era allies.
German Chancellor Angela Merkel has skipped the parade but arrived in Moscow on Sunday to pay respects at aMoscow war memorial and to meet Putin.
– Citizen News