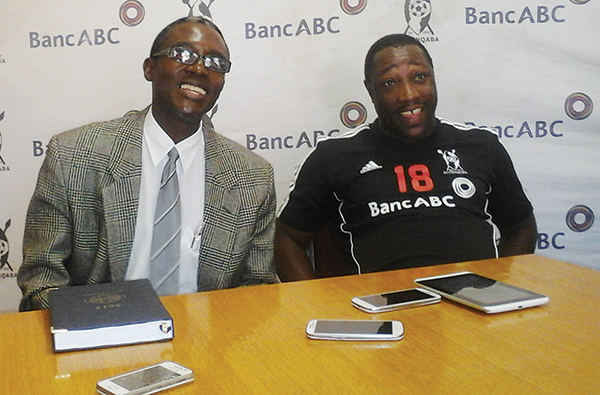 HIGHLANDERS assistant coach Mandla "Lulu" Mpofu has poured scorn on allegations that he is at loggerheads with his boss Bongani Mafu, saying football is a pressure game and it is common that they will argue for the good of the team.
BY FORTUNE MBELE
Responding to a question at a Press conference that he had differences with Mpofu and that his players had lost confidence in him, Bosso head coach Bongani Mafu, a few weeks back, said he was not going to respond to such allegations as they were just pub talk.
At another Press briefing yesterday, Mpofu said it was only normal for him to argue with his boss for the good of the team, but they would resolve their impassé in tug along in one direction.
"We are one unit and people will have different opinions. There is no way at the end of the day when we will not argue. We want the team to win. We argue for the good of the team and what we want is a good result. The same arguments happen at Chicken Inn, FC Platinum. We are one unit, one family. I am there to assist Mafu.
I assist, but I am not going to sit there and watch where things don't go well. But at the end of the day, we pull in one direction," Mpofu said.
Mafu did not attend yesterday's Press briefing as he was said to be held up somewhere and Mpofu on Wednesday spoke to journalists after Highlanders beat Flame Lily 3-0 at Lafarge.
Bosso executive secretary Emmett Ndlovu said it was not the new trend that Mpofu would be speaking on technical issues.
"It's just been incidental that it has happened in succession," Ndlovu said.
Ndlovu refused to clear the air on reports that Mafu's job was hanging in the balance at Highlanders.
"Everybody is so much under pressure. We want to get the results. People are raising contractual issues because the team is not performing very well. If that is the case, it would have been an individual opinion rather not an executive decision. If there was an official statement from the office, it is unfortunate," Ndlovu said.
Before the Flame Lily match, there were reports that Mafu would be fired if he lost that game, but three goals from Thomas Chideu, Gabriel Nyoni and Oba Tarumbwa made sure that Bosso collected a crucial set of points that sent them back to fourth place on the Castle Premiership standings.
Last Sunday, Highlanders lost 0-1 to Caps United at Barbourfields Stadium and they play their next game against Harare City back home at Emagumeni, where they have lost two matches in a row.