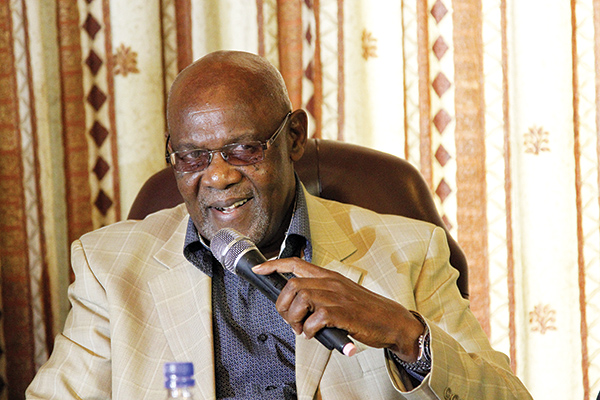 Zapu leader Dumiso Dabengwa yesterday attacked Information minister Jonathan Moyo for allegedly attempting to cover up and defend President Robert Mugabe's recent Kalanga tribal jibe.
BY PRIVILEGE SHOKO/ MELODY CHIMHAU
In a statement, Dabengwa said Mugabe's attack on Kalangas from Matabeleland South province whom he labelled "uneducated criminals" reflected the 91-year-old Zanu PF leader's tribalistic mentality.
"Some Zanu apologists have tried to cover up his grotesque insult on Kalangas as uneducated people most of who are involved in crime in South Africa," Dabengwa said.
"The insults aimed at Kalangas and other people in Matabeleland reflect the tribalist mentality that explains the 'Gukurahundi' genocidal campaign of the 1980s in which more than 20 000 people lost their lives in Matabeleland and Ndebele-speaking parts of the Midlands.
"This selective punch is also a shallow diversion from the national mismanagement of the economy that has resulted in widespread unemployment that reflects young people of all tribes and races in all corners of the country."
Meanwhile, the Zapu women's wing elected a new executive at the weekend amid calls for equal representation and empowerment of women in the party.
The newly elected chairperson Virginia Dube told Southern Eye that she was ready to revive the almost defunct arm as the party prepares for its congress.
"We want to revive the interim executive which was facing difficulties and hope that we will have workshops outlining the responsibilities to the women's leaders," she said.
"We are working towards 50% representation of women in the party structures as we approach congress as the constitution had laid 30% as the minimum women's representation."
She added: "We want to empower women rather than looking down upon each other or be led by men like in the Zanu PF women wing whereby the league is run by chauvinistic sentiments and men use women as tools to oppress other women."