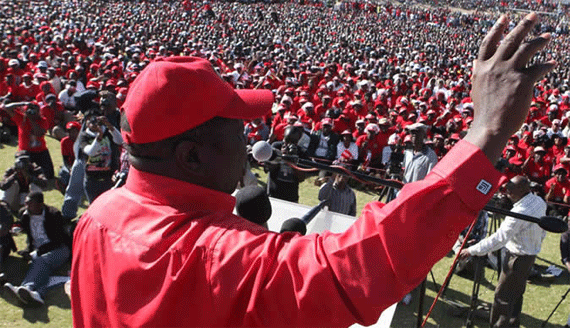 THE MDC Renewal Team has described its former councillors who quit the party last week to rejoin the MDC-T as "desperate gold dealers" driven by financial greed. NQOBANI NDLOVU
Four MDC Renewal Team councillors — Collet Ndlovu, Sheila Musonda, Lillian Mlilo and Gladys Mataka — rejoined the MDC-T on Tuesday during a provincial council meeting held in Bulawayo.
The meeting was attended by MDC-T leader Morgan Tsvangirai who was in the city to mend the widening cracks in his party's Bulawayo province.
In an interview yesterday, MDC Renewal Bulawayo provincial spokesperson Edwin Ndlovu alleged that the MDC-T had dangled a carrot on the councillors and enticed them back.
"The MDC-T, like Zanu PF, thrives on coercion. It's true some councillors have gone back to the MDC-T. It is a matter of poverty," he said.
"They are afraid to be recalled and lose their meagre allowances.
It is very unfortunate. Nonetheless, the Renewal family is rebuilding looking forward to our upcoming congress."
Bulawayo spokesperson Mandla Sibanda could not be reached for comment on allegations that the party had bullied the councillors to rejoin MDC-T.
Sibanda last week, however, confirmed that the MDC-T wanted to have the councillors expelled, just like its former legislators.
"The rebel councillors were officially welcomed (on Tuesday) and they said they have come back to the big tent.
They have always been councillors, but of late they have not been representing our party.
"There was a resolution to recall those that went to MDC Renewal Team and that resolution has not been rescinded; it still stands," Sibanda said then.
The defections come at a time when the MDC Renewal Team's plans to unite with Welshman Ncube's party are under threat owing to endless infighting in both camps over positions in the united front.
The MDC-T recently recalled its former legislators from Parliament for defecting and announced plans to boycott the by-elections slated for June 10.