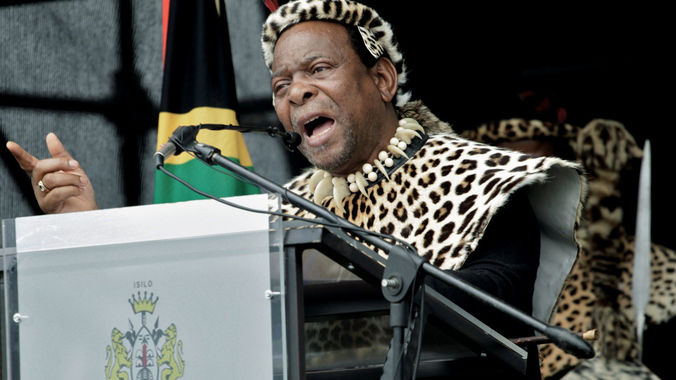 Durban — Zulu King Goodwill Zwelithini has issued a set of instructions to traditional leaders on the processes to follow when foreigners want to settle in their areas.
The king called on traditional leaders to make sure that foreigners had legal documents that allowed them to be in the country.
He said foreigners who wanted to settle on land controlled by the Ingonyama Trust should be introduced to him in the company of the ambassadors of their countries. The king was addressing traditional leaders from across the province during the opening of the House of Traditional Leaders in Ulundi on Thursday.
Traditional leaders from other provinces attended.
"Once the foreigners are introduced to you, there should be a way of bringing them to the royal palace. They should be accompanied by ambassadors from their countries," King Zwelithini said.
He would soon meet community safety and liaison MEC Willies Mchunu to talk about the formation of the KwaZulu-Natal Public Peace Process, which he announced during a peace imbizo at the Moses Mabhida Stadium in Durban on April 20.
"I wish this peace agreement to be signed by every affected country (whose citizens are foreigners in the country)," he said. "I need every traditional leader to have personal details of foreigners living under their territories."
He said locals who wanted to accommodate foreigners should get permission from a traditional leader.
The king asked Premier Senzo Mchunu to organise a meeting between himself, traditional leaders, the government and ambassadors to talk about the xenophobic attacks, illegal immigrants and the relationship between KwaZulu-Natal and affected countries.
"I appeal to (Home Affairs) minister (Malusi) Gigaba (State Security minister David) Mahlobo and (Police minister Nathi) Nhleko to assist with training of traditional leaders on how to accommodate foreign nationals," he said.
"I say this because I know that foreign nationals in any country are controlled under international laws. We need to understand the details of these laws."
King Zwelithini said this would help foreigners and locals to live in harmony and understand each other's culture.
"On the other hand, we are going to teach foreigners about our culture and way of life."
He again denied having called on foreigners to pack their belongings and leave South Africa during a speech in Pongola in March.
It was widely reported that he said that foreigners were changing the country's culture and were taking over the local economy.
The SA Human Rights Commission is investigating complaints, including that the Pongola speech constituted hate speech and violation of the right to life. — IOL