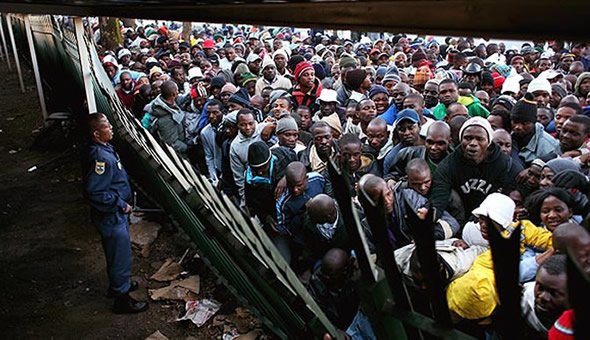 Johannesburg — South African police arrested 198 illegal immigrants in a raid in Johannesburg yesterday, officials said, after a spate of xenophobic attacks that has thrust millions of foreign workers into the spotlight.
Local mobs have targeted immigrant workers from Zimbabwe, Malawi and other African countries in unrest that left at least seven people dead in the past month.
Many poor South Africans blame foreigners for taking scarce jobs. The frustrations erupted in rioting in Johannesburg and the port city of Durban.
Police backed by soldiers arrested 212 people in Lenasia township, south of Johannesburg, following tip-offs that "indicated criminal activity in the area", police spokesman Kay Makhubela told a news agency.
"The army was backing us during the raid and when we came across people without legal documents, home affairs officials screened them."
Of those arrested, only 14 were South African citizens. All 212 will appear in court next week after unlicensed firearms, other weapons and marijuana were seized, the police added. Makhubela said the raids were not part of the government's response to the xenophobic attacks.
Millions of African migrants —many of them illegal — work in South Africa, often on construction sites or as casual labour.
Zulu King Goodwill Zwelithini, traditional leader of South Africa's largest ethnic group, has been accused of triggering the violence after publicly saying foreigners needed to leave the country.
The attacks, which have halted in recent days, revived memories of xenophobic bloodshed in 2008 when 62 people were killed, tarnishing South Africa's tolerant post-apartheid image.
Parliament has been suspended this week so lawmakers can spend their time delivering anti-xenophobic messages in their constituencies.
— Online