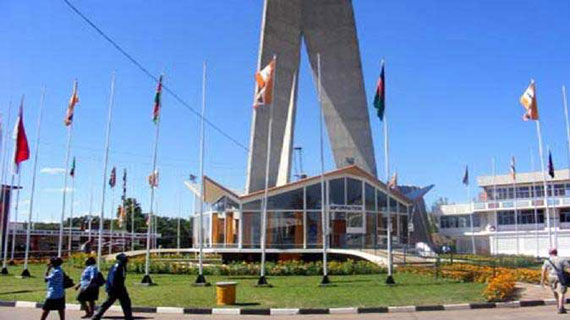 ZANU PF is making its debut exhibition at this year's Zimbabwe International Trade Fair (ZITF) as the party seeks to inject life into government's latest economic blueprint.
BY NQOBILE BHEBHE
The 56th edition of ZITF kicked off yesterday in Bulawayo and runs through to Saturday under the theme Simulating Trade: Seizing Opportunities to Accelerate Growth.
Zanu PF says its exhibition will market the Zimbabwe Agenda for Sustainable Socio-Economic Transformation (ZimAsset) and build economic synergies.
The party's director of economic affairs, Nyasha Madeya said it was imperative for the ruling party to interface with local and international traders.
"Zimbabwe is ripe and in dire need of capital to unlock value embedded in its resources," he said.
"Zanu PF is forging an agenda to achieve economic emancipation for all Zimbabweans and it is imperatively prudent for the party to utilise such major platforms like the ZITF to ensure congruency of policy implementation with key business stakeholders."
Madeya said the slow pace of implementing the ambitions ZimAsset jolted Zanu PF to have a more "aggressive approach to accelerate such implementation through linkages with business".
"It is anticipated that ZITF 2015 will play a pivotal role in opening up trade avenues between Zimbabwe and foreign exhibitors while paving way for foreign direct investment," he said.
"Thus at its ZITF exhibition stand, Zanu PF will interface with business and the general public to establish an awareness, clarity of its polices, programmes and activities for developing and nurturing a symbiotic relationship with both domestic and international business."
"This maiden appearance at the ZITF is indeed a humble submission of Zanu PF's role in economic matters and a sure sign that it considers the economic agenda the foremost priority at this juncture of the economic revolution as it seeks to deliver economic prosperity to all Zimbabweans," Madeya added.
However, the Zanu PF government has been blamed for the current economic problems through its ruinous polices such as the indigenisation law. Since elections in July 2013 the state of the economy has alarmingly deteriorated.
The economy has become more informalised, leading to a severely reduced income base for government, which is now struggling to meet its public sector wage bill obligations.
The ambitious Zanu PF manifesto that informs ZimAsset speaks of more than $1,84 trillion being created from the idle value of empowerment assets unlocked from various avenues such as parastatals and mineral reserves.
Zimbabwe's efforts to secure $27 billion to fund ZimAsset were dealt a major blow after China indicated that it would not extend any direct budgetary support to the cash-strapped government.