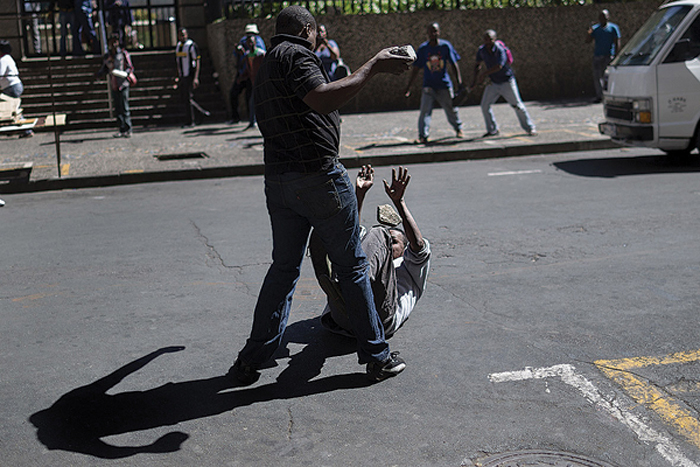 A State media columnist believed to be President Robert Mugabe's spokesperson, George Charamba, on Saturday made mockery of thousands of Zimbabweans who recently fell victim to xenophobic attacks in South Africa, saying they had invited the violence by fleeing their motherland.
BY NQOBANI NDLOVU
The columnist, writing under the pen-name Nathaniel Manheru, said the xenophobic attacks were a wake-up call to Zimbabweans based in South Africa, especially Ndebele-speaking nationals who falsely believed they belonged to that country by ancestry.
Manheru said the xenophobic attacks jolted Zimbabweans who "change their names and twist their tongues to ape South African accent" into realising and "embracing home with the firmness of a prodigal son".
"I have had bitter arguments with the so-called Mthwakazi people: Those unproud Zimbabweans who snipe at home from the borrowed comfort of South Africa. They want to breakaway, want to slough off a chunk of Zimbabwe to patch it onto South Africa, 'where they come from'.
Really? And if they see a Shona speaker in Durban they harass him . . .
"Well in the recent mayhem, they too got hacked. And the instigator of that deadly action was non other than the Zulu King, Goodwill Zwelithini.
Much earlier, in the run-up to the 2013 elections, countless overtures had been made to South African interests by local politicians hailing from western Zimbabwe . . . It was a sharp rebuke, a sharp chastisement, one that collapsed deformed dreams," Manheru wrote in the Saturday Herald.
Zwelithini faces charges of fuelling the xenophobic attacks after he allegedly said foreigners should pack their bags and go. He, however, denies the charges and accuses the media of misquoting him.
The violent attacks have reportedly left seven people dead and displaced thousands. Nearly 1 000 out of the estimated three million Zimbabweans based in South Africa have trooped back with the assistance of the government.
"And it's not just those few Ndebeles in the Diaspora who have such a strange outlook. Shonas too, incorrigible failures anywhere and anytime, in Zimbabwe or elsewhere . . . They have come home. They have, yes, acknowledged home, and that is key! The same home they routinely congregate on Studio 7 to denounce, cheapen.
"I did not know that a blow of xenophobia, the okapi of xenophobia, the bullet of xenophobia, make nationalists of us, remind us of the red hills of home!"
Manheru added: "As unhappy Ndebeles, do we have to swop our full nationality for an adjunctive South African one? Why self-flagellate in the hope of being avenged against a politician you judge to be failing you? And as it turns out, where you called home has turned out to be a cauldron? So? Deal with your home politics and home politicians; don't desert home, call it names."
The columnist went on to say Zimbabwe cannot plead victim of the attacks, as locals were also committing crime there following revelations that nearly 4 000 Zimbabweans were jailed in South Africa for various offences.
"We have our 4 000 in South African jails — hardcore criminals incarcerated for very serious crimes. We are not righteous victims.
". . . With that kind of statistic, we cannot plead victim, wholly, plead more killed than killing. That ugly statistic blunted whatever
sharp points President Mugabe may have hoped to needle his South African counterpart with, during the recent encounter."