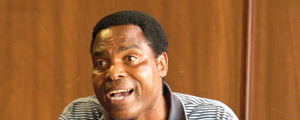 FORMER war veterans' leader Jabulani Sibanda (pictured) yesterday vowed to fight from within Zanu PF saying change was still possible without splitting the ruling party.
BY NQOBILE BHEBHE
Sibanda made the remarks at a public meeting organised by Bulawayo Agenda to reflect on the 35th independence anniversary. He said he would never join opposition ranks.
The firebrand former fighter was kicked out of Zanu PF after he allegedly accused President Robert Mugabe and his wife Grace of plotting a "bedroom coup."
He is awaiting trial on charges of undermining the authority of the president.
Sibanda has been linked to a Zanu PF faction calling itself Zanu People First and is backing expelled Vice-President Joice Mujuru.
"We should stand in Zanu PF whether in leg irons or not and oppose the evil in Zanu," he said. "We should not be running away and say we are the opposition."
He said he was part of a group in Zanu PF that believed Mugabe was surrounded by wrong people.
"I belong to a group in Zanu PF that used to say Mugabe is surrounded by wrong people, but the numbers are dwindling," he said.
"Mugabe has done his duty wrongly or not, he is 91 years now and we don't expect much from him.
"Are we having the right people around him? No! He is surrounded by known criminals."
Sibanda said both Zanu PF and MDC-T had failed the people of Zimbabwe.
"I condemn the wrong things that have been done by Zanu PF. I have condemned wrongs done by MDC-T," he added. "I am neither MDC nor Zanu PF. I am Jabulani Sibanda."
He said the splits in political parties confused the electorate and should not be tolerated.
"Politics of splitting are confusing our people. We cannot be splitting and splinting. It's from people who don't understand politics," Sibanda said.
"We should not have opposition political parties, but a ruling party and other parties at some point.
"If we pile all problems on one person we expect that person to correct the wrong. That is wrong.
"We have that chance of correcting that after every five years (during elections), but we are ever splitting."
Speaking at the same event, MDC secretary general Moses Mzila-Ndlovu said splits in the opposition showed a lack of focus.
"There are high expectations on the opposition, but opposition parties are focused on politics of deception yet we have the capacity to effect change," he said.
"It's a tragedy, but we believe in multi-party democracy. We will be a disgraceful generation due to splits"
MDC-T deputy organising secretary Abednico Bhebhe was part of the panel and attacked Zanu PF for failed policies.
Related Topics