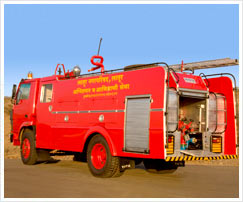 A 21-year-old woman had to be rescued by the Bulawayo Fire Brigade after her leg got stuck in a toilet pit as she took a bath.
BY PATIENCE RATAMBWA
Joyce Mashodo of Old Magwegwe has to thank neighbours who raised the alarm after she disappeared into the Blair toilet for over an hour.
Her neighbours told Southern Eye that they became worried after the woman took too long in the toilet, and decideD to investigate.
"We followed her into the bathroom after realising she had taken too long and found her trying to remove her leg from the pit," one of the neighbours said. "That is when we tried to rescue her, but after several failed attempts we called the fire brigade."
Mashodo was taken to Mpilo Central Hospital for treatment after she suffered injuries to her leg.
Bulawayo chief fire officer Richard Peterson confirmed the bizarre incident. He urged residents to avoid using Blair toilets for bathing saying they were not safe.
"We advise people not to use such kind of toilets for bathing purposes because where soap and water are mixed, the floor will obviously become slippery," Peterson said.
"Although such cases aren't as common, we experience them time and again. Next time it might not be a leg trapped inside, but a child's head or worst case scenario the whole body then we have no one, but ourselves to blame."
However, Peterson could not comment on the extent of the woman's injuries.
"She had to be taken to hospital because she was clearly not comfortable and had probably sustained serious injuries on her leg," he said.
A Blair toilet is a pit latrine designed to improve rural sanitation.
The toilets were not very common in urban areas until recently when local authorities started struggling to put infrastructure to cope with population growth.