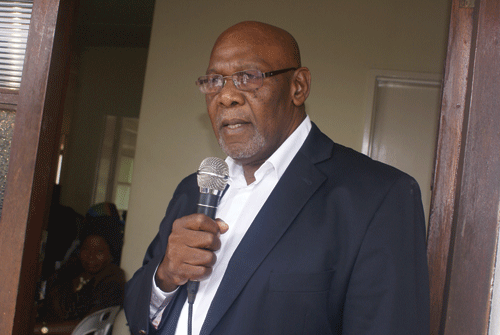 ZAPU leader Dumiso Dabengwa yesterday admitted that his party held preliminary talks with ex-Zanu PF leaders who were victims of a vicious purge that targeted suspected supporters of former Vice-President Joice Mujuru.
BY SILAS NKALA
Dabengwa's admission followed statements by former Zanu PF secretary for administration Didymus Mutasa that the disgruntled Mujuru faction was preparing to launch a political party.
Mutasa said the party would be formed by old Zanu PF members such as Dabengwa and former Finance minister Simba Makoni who left the ruling party in frustration over the years.
The former Home Affairs minister said they had advised Mutasa and his group to first disengage from Zanu PF before they could pursue concrete talks.
"They approached us to hear if we could work together since they had been expelled," Dabengwa said.
"We then said we could not work with them if they did not have an identity which is different from that of Zanu PF. We said we could not work with them if they were still linked to Zanu PF.
"They told us that they were going to sort themselves out and they would let us know when they are ready."
Zapu has indicated willingness to join a so-called grand coalition of opposition parties to topple Zanu PF.
In the run-up to the July 31 2013 elections, Zapu formed a coalition with the MDC led by Welshman Ncube. However, the coalition was humiliated in the elections won by Zanu PF.
Dabengwa said in the event of an agreement between Zapu and Mutasa's group, his party would retain its name.
"During our talks we told them that wealready had another agreement we signed with the MDC," he said. "We told them we would retain our identity as Zapu even in the event of the agreement with them and that is where we ended our talks."
In 2008, Dabengwa led a group of senior officials who walked out of Zanu PF accusing the party of disrespecting the 1987 Unity Accord with Zapu.
The accord was signed to end the Gukurahundi genocide in Matabeleland and the Midlands.
Dabengwa was soon followed by Makoni and the two later formed Mavambo/Kusile/Dawn, which contested the harmonised elections held the same year.
Zanu PF accused Mujuru and her loyalists of plotting to assassinate President Robert Mugabe, an accusation the former vice-president vehemently denied.
Meanwhile, Mutasa yesterday repeated his claims that Zanu PF was planning to assassinate him ahead of the Headlands by-election on June 10.
The former Presidential Affairs minister said Mugabe's regime was behaving like Ian Smith's colonial government.
"There is likelihood that they want to kill me," he said. "They say they are trained to kill. I do not think I enjoy any form of protection.
"However, I am not living in fear. Remember I have a war experience and before that I fought agains Smith's illegal regime."
Mutasa said the only difference between Mugabe and Smith was that the Rhodesian Prime Minister was white and the Zanu PF leader is black.
"The only difference is that Smith was white, everything else is the same," he charged. "They will never protect me. The only protection I have and believe in is from God."
Information minister Jonathan Moyo has dismissed the moves by Mutasa's group to form a new party as insignificant.