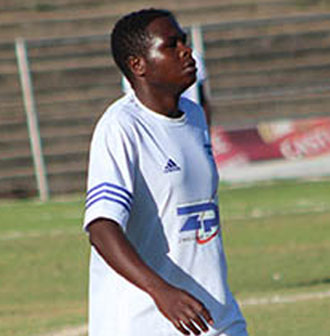 Dongo Sawmills . . . . . . . . . . . . (0) 1 How Mine . . . . . . . . . . . . . . . . . (1) 2
KENNETH NYANGANI IN RUSAPE
SECOND half substitute Benjamin Marere headed in a late winner that gave How Mine maximum points against Dongo Sawmills in a Castle Lager Premier Soccer League match at a rain-soaked Vengere Stadium yesterday.
A heavy downpour hit Rusape just before half time that saw players from both teams scurrying for cover in the VVIP stand and the media centre.
The visitors took the lead as early as the fifth minute when former Dynamos player Wonder Sithole struck a ferocious shot that beat Dongo Sawmills shot-stopper Forward Pfumojena.
How Mine appealed for a penalty in the 15th minute after the hosts' defender Evans Chikwaikwai hacked Limited Chikafa inside his box.
Chiredzi-based referee Jimmy Makwanda instead gave the visitors a free-kick.
In the 32nd minute, the hosts' free-kick found no takers inside the box with the How Mine rearguard at sixes and sevens.
The home side started the second half on a strong note as they pressed for an equaliser, but How Mine were resolute at the back.
Five minutes before the hour mark, Dongo Sawmills substitute Martin Tapatapa's thunderbolt missed the target by a few inches.
The introduction of the home side's crowd favourite Last "Rasta" Jessi in the 74th minute seemed to have motivated his teammates as, two minutes later, Kelvin Katandika equalised for the home side with a good shot at the edge of the box.
But Marere had the final say, heading home the winner four minutes from time.
How Mine head coach Luke Masomere said he was happy with his side's performance.
"It was a good performance from my team considering that we have seven players who are on the injury list," he said.
His counterpart Shadreck Mugurasave said it was a balanced affair, adding that they were hoping for a change of fortunes against Dynamos in their next league match.
"It was a balanced match and we came back in the second half a better side, but we lacked concentration in the dying stages of the game," he said.
Related Topics