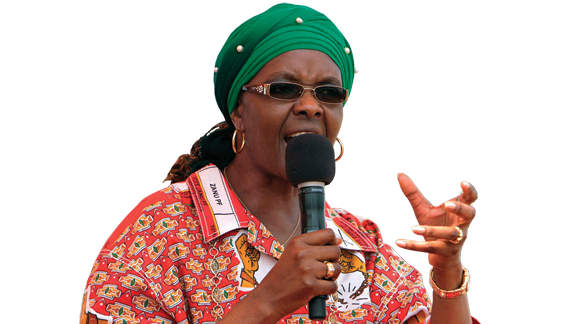 LIONS and baby elephants have reportedly been captured at the Hwange National Park and moved to a game reserve linked to First Lady Grace Mugabe, a wildlife activist has claimed.
NQOBANI NDLOVU STAFF REPORTER
This comes days after Environment, Water and Climate minister Saviour Kasikuwere said 20 baby elephants and other animals had been captured for export to China, France and the United Arab Emirates (UAE).
Zimbabwe Conservation Task Force chairman Johnny Rodrigues said the animal rights group had it on good authority that the captured elephants had not been exported, with some of them being sent to the First Lady's game reserve.
Rodrigues, however, said it could not be verified whether the elephants and lions sent to Grace's Manzou Farm in Mazowe were part of the 20 that are supposed to be exported to countries like China, France and the UAE.
"As far as we know, the baby elephants have not yet been exported," he said in a statement.
"There are apparently some being held in the boma in Hwange National Park and some more in Victoria Falls, although it is said that some have been moved to Grace Mugabe's new game reserve, as well as nine lions.
"We don't know if the elephants moved to Grace's game reserve are part of the captured group."
Kasukuwere refused to comment on the issue yesterday, claiming that he was busy attending meetings in neighbouring Botswana, before hanging up his mobile phone.
Wild animals were last year released into Manzou Farm, reportedly to chase away villagers who were resisting eviction to pave way for Grace to turn the property into a game reserve.
Government officials, however, denied reports that Grace was behind the evictions and instead blamed villagers for causing land degradation through illegal gold panning activities.
Rodrigues said they had it on good authority that authorities were forced to capture baby elephants after the bigger jumbos "proved too difficult to handle".
"Some of the bigger elephants captured proved too difficult to handle, so they were released back into the bush and some smaller ones were captured to make up the numbers.
"We have heard that the export will begin by the end of March," he added.
Animal conservation groups are against moves by the government to export baby elephants, but the Environment minister on Friday said there was no going back.
Kasukuwere said the shipments will comply with regulations put in place by the United Nations' Convention on International Trade in Endangered Species of Wild Flora and Fauna, known as CITES.