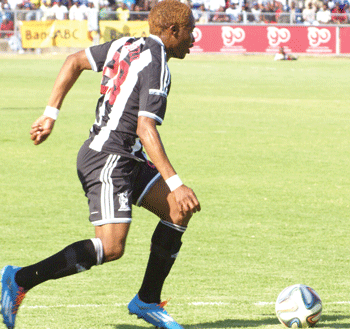 BELEAGUERED former Highlanders midfielder Joel "Josta" Ngodzo might kick ball for Caps United anytime soon if he gets his act together.
FORTUNE MBELE SPORTS REPORTER
Caps United coach Mark Harrison appeared to believe in the talent of the former Warriors playmaker, whose career has been mired in controversy after moving from boyhood club Bosso to FC Platinum in 2011 and returning to the football giants last year.
Harrison yesterday said he was still monitoring Ngodzo and there is a chance he might sign him if the midfielder met targets set on him by the English gaffer, which include a considerable loss of weight.
"I am still checking on him and there are targets that I have set for him. He is overweight, but since he is a free agent and will not be affected by the closure of the window period, I believe I could sign him if he meets my targets," Harrison said.
Ngodzo spent last season at Highlanders, where upon returning from FC Platinum, then Bosso mentor Kelvin Kaindu put him on a strict diet to shed weight before he could kick ball. There was an outcry that Kaindu was wasting the talented midfielder, but Harrison seems to be confirming Kaindu's thoughts.
Sources say a two-year deal is in place for Ngodzo if he eventually meets the target.
He left Platinum after he did not get much game time in 2013 and played a few matches for Highlanders last year.
He was caught offside by the Bosso management for indiscipline that rocked camp prior to 1-4 defeat to Dynamos in the TM Pick n Pay Challenge Cup in Harare, for which he was given a written warning, Highlanders was not willing to have him back.
He was censured together with Charles Sibanda, who has since found a new home at How Mine and Njabulo "Tshiki" Ncube, who is believed to be training with Southern Region Soccer League side Bulawayo Chiefs.
Tshiki has been quick to play a tribal card after his departure from Bosso, when it was clear to all and sundry that he had passed his sell-by date.
Bosso coach Bongani Mafu gave Ngodzo a chance, but said the player had to work on fitness levels. Mafu said Ngodzo had unbelievable talent, but "is seriously out of shape".
The brawny midfielder packed his bags to the Green Machine mid last month where he has been training, with Harrison also urging him to work on shedding of weight.
He went to Caps United with another former Highlanders midfielder Hillary Madzivanyika, who has been asked by the Green Machine technical department to look for another club.
At 25, Ngodzo still has more years to play if he puts his mind on working on his attitude that has seen him fall out with a number of coaches. The last chance for him could impress the English mentor Harrison at Caps United.