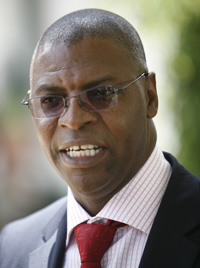 MDC leader, Welshman Ncube, has appointed the party's deputy planning, strategy and implementation director, Joshua Mhambi, to fill the party spokesperson's post left vacant after Nhlanhla Dube resigned.
NQOBANI NDLOVU STAFF REPORTER
Dube quit the MDC citing irreconcilable differences over infighting bedevilling the party, just weeks after other top officials, Priscilla Misihairabwi Mushonga and Frank Chamunorwa, ex-secretary-general and party chairman respectively resigned from their positions.
Ncube, in a statement yesterday, said Mhambi, a former Zapu member and political commentator, is the new party spokesperson, and will be deputised by Henry Chimbiri, who was formerly the deputy director of policy and research.
Mhambi said he was ready for the challenge.
"My choices are limited when it comes to taking up national duty of rebuilding Zimbabwe," he said.
"I strongly believe that we have a duty of bestowing a positive legacy and heritage for generations to come."
Mhambi said his appointment was the beginning of a new ear for him and the party.
"With that in mind, I accept challenges that go with the office," he said.
"I am not afraid of growth.
"This marks the beginning of an era – bringing in radical discontinuity within continuity in political discourse.
"The legacy continues as we fight for a just and fair Zimbabwe."
Dube, Misihairabwi-Mushonga and Chamunorwa faced charges of plotting to block Ncube's ascendancy to take over the leadership of the United MDC – a union between the MDC and the MDC-Renewal.
The MDC over the weekend suffered another set-back after scores of youths from the Bulawayo provincial executive crossed the floor to join Zapu, but top officials remained defiant that this did not signal the collapse of the formation.