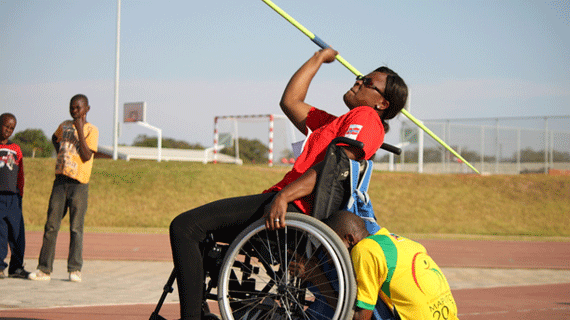 BULAWAYO Metropolitan Province will on Saturday host the paralympics inter-district games at White City Stadium to select a provincial team that will represent the province in the eighth edition of the Zimbabwe National Paralympic Games (ZNPG) to be held in Harare from April 7 to 11. MAMELO NKOMO SPORTS CORRESPONDENT
Preparations for the ZNPG will see schools and clubs from Imbizo, Khami, Mzilikazi, Reigate and Bulawayo Central districts converging for the province to select the final team to go on a camp ahead of the national finals.
The ZNPG started in 2008 in Bulawayo to provide a platform for the development of local sport as well as selection of talented athletes with varying disabilities to participate in regional and international competitions .
The marketing and publicity spokesperson for Bulawayo, Dave Simba, said the provincial team that will be selected over the weekend would go on a two-day camp.
"We are going to camp at Evelyn High School from April 4 to 6 then the team will depart to Harare," he said.
Simba appealed to the local business community to sponsor the team to Harare.
"As a sports board, we are looking at paying up transport fares, accommodation, food, affiliation and registration fees. Therefore we call out to willing stakeholders to assist in terms of sponsorship," he said.
He indicated that this year, three new sporting disciplines have been introduced in Zimbabwe's Paralympics Games.
"Of interest this year are demonstrational sports. These are interesting and exciting disciplines and they include wheelchair racing, sitting volleyball and power lifting," Simba said.
Sporting disciplines that are usually played in ZNPG are goalball, wheelchair tennis, basketball, five-a-side football, netball and athletics.
The Sports and Recreation Commission is hosting the ZNPG under the theme "Empowering People Living with Disabilities through Sports" at centres that include Prince Edward High (Harare), Queen Elizabeth, Harare Girls High and Allan Wilson (Harare).