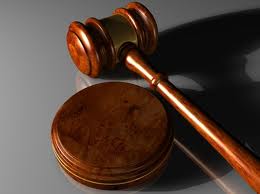 GWERU magistrate Gertrude Mayonyese who last week dismissed following misconduct charges after she last year delivered a sentence in which a stock thief got away with a $400 fine, has been served with an eviction notice after failing to pay rentals.
Stephen Chadenga OWN CORRESPONDENT
Mayonyese was served with summons to appear in court and face eviction if she failed to pay accruing rentals amounting to $1 000 at house number 8473 Gordon Crescent, Athlone, Gweru.
The owner of the house, Costain Gapare, who lives in Australia, gave power of attorney to his mother Oliver Shumba, who brought Mayonyese to court.
The court heard that the expelled magistrate failed to pay rentals for two months in December 2014 and January 2015 respectively.
Gweru magistrate Mildred Matuvi yesterday declined to preside over the eviction case, citing conflict of interest, saying she had a close working relationship with Mayonyese for years.
The matter has since been referred to Kwekwe courts for trial.
In February last year, Mayonyese fined Felix Tafirei Mujuru, an Mvuma-based farmer $400 after convicting him for stocktheft after he stole a bull belonging to his neighbour.
The mandatory sentence for the offence is nine years.
Bulawayo High Court judge Justice Nokuthula Moyo, however, reversed the ruling after the case was sent for review.
Moyo questioned how a stocktheft case, with a mandatory prison sentence, could attract a fine and this led to a three-month suspension of the magistrate pending a hearing on the misconduct charges.