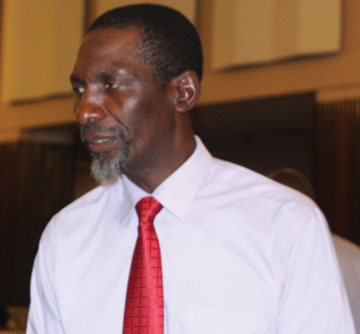 THE MDC heartily congratulates the people of Maleme for their brave and unyielding, yet peaceful fight for justice and ultimate victory in the Maleme Ranch dispute.
This is a victory for the people of Maleme and Zimbabwe at large. The spirited attempts by Zanu PF to project Vice-President Phekelezela Mphoko as the saviour are both lame and laughable.
The Maleme people's bravery of taking on Central Intelligence Organisation operative Rodney Mashingaidze with all the attendant notoriety and frightening memories of many lives lost at the hand of the institution he works for and the party which uses the same for cowering citizens is indeed admirable and worth every applause.
We salute the people of Maleme for standing up for justice and fairness to halt the obsessive looting by Zanu PF and its functionaries.
The people tamed the party's insatiable spirit of gluttony which justifies looting even from the poorest people.
Had the people kept silent, this grand theft would have succeeded and disrupted the lives of thousands in Matabeleland South who benefit immensely from its farming activities, including poultry farming, employment and agricultural training, among other valuable community focused programmes.
As MDC we applaud the people of Maleme and celebrate with them as they have instituted a new narrative, a narrative which is wholly and truly about the interests of ordinary people.
For the first time in a while in Zimbabwe, we saw ordinary people influenced by no superior force, genuinely standing up for their rights and forcing Zanu PF in all its monstrosity to back down.
We thank the brave men and women for reigniting hope that people power can still prevail in Zimbabwe.
We are cautiously optimistic however, that Zanu PF will respect the reality of people power and that its surrender to the will of the people is genuine.
As such, we call on the government to put an abrupt end to all selfish acquisitions of farms by Zanu PF members, particularly those that benefit the communities by ensuring sustainable livelihoods and successfully contributing to national food security.
We challenge Mphoko to emulate the people he claims to represent and deal justly and fairly with the many other cases of unfair land acquisition and distribution which have left the ordinary local people at the mercy of the connected high and mighty in Zanu PF.
Any failure to follow through with similar rectification measures of similar unfair farm acquisitions, and there are many, will only show him for the coward and string-controlled puppet that many have always suspected him to be.
This victory is not just for the people of Maleme, but for all ordinary and oppressed people of Zimbabwe.
We celebrate the spirit of devolution and vuka uzenzele (proactive) community spirit which has prevailed in Maleme.
It is this same spirit that led to our independence from colonialism and it shall free this nation from institutionalised gluttony, selfishness and unfairness which masquerades as a people's government.
Moses Mzila Ndlovu is MDC acting secretary-general