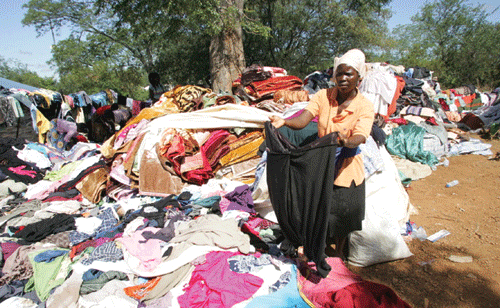 FOR the second time in just a year, 18 000 impoverished Tokwe-Mukosi Dam flood survivors have again fallen victim to a development project — this time to pave way for an ethanol plant by Billy Rautenbach, whose first attempt to set up the project in 2008 failed due to political bickering and shortage of water.
Tatenda Chitagu Own Correspondent
First, it was in the Tokwe-Mukosi Dam flood basin, where some who were directly affected by flooding were evacuated, while those in the catchment area were forcibly ejected without compensation in February last year following heavy rains in Chivi and Masvingo South communal areas.
The dam is set to be the country's largest inland water body upon completion, creating a green belt, characterised by sugarcane irrigation, employment and power generation, among other activities.
But the hapless villagers say the dam turned out to be a curse, as they are not sure whether they will benefit from the project because of unfulfilled promises despite the challenges they faced in being moved from the dam basin.
"We spent three days in the rain at Muzvidziwa bus stop along the Masvingo-Beitbridge Highway, before being bundled to Chingwizi transit camp in Nuanetsi Ranch in the arid Mwenezi district," Runhindi Mazhazhate (40), originally from Masvingo South Chihuku village under Chief Nyajena, said.
"Overnight, our lives turned upside down, although we had been promised a better life and compensation.
"We lost property, livestock and other prized and sentimental items.
"The camp was crowded.
"We faced several disease outbreaks and our children's schooling was disrupted.
"We were reduced to vagrants, facing food shortages.
"The lucky ones got small tents, while many lived in makeshift structures that resembled a refugee camp."
When the first batch was transported in lorries, together with their goats to Chingwizi camp, then Provincial Affairs minister Kudakwashe Bhasikiti promised them heaven on earth.
"Forget about where you were, this is like the biblical Canaan," he gushed then.
"We gave you this land which other people wanted, but we chose you. You will be irrigation out-growers and get four-hectare plots each.
"You will reap huge benefits from this dam and a better life, though you may face some difficulties now."
After six months in Chingwizi transit camp, they were forcibly moved to one-hectare plots about 40km away, although they had refused to take up the offer, saying they needed compensation first and bigger space of four hectares each.
Out of $9 million needed for their compensation, only $2 million was provided and not everyone got something.
"Bhasikiti tricked us," Mercy Gunikuni, a victim, said.
"The same problems we experienced in the transit camp continue to plague us.
"It was just the setting that had changed.
"However, moving out of the camp saved us from diseases, as we got one-hectare plots each."
But their eviction from Chingwizi, like that from the dam basin and its nearby catchment area, did not come without incident.
After several resistance efforts, including chasing away 10 ministers and torching two police cars, 300 of the villagers were rounded up by the cops. Only 30 were tried, 26 of them acquitted.
However, four of them, including their spokesperson Mike Mudyanembwa and 60-year-old Nyengeterai Tagwirei, were jailed five years each.
Now, one year down the line, the flood victims are set to be moved again to Chiumburu Farm in Chiredzi to pave way for Rautenbach's Zimbabwe Bio Energy (ZBE) company to set up an ethanol project.
"There is an agreement that the area, where the flood victims were resettled is uninhabitable," Zimbabwe Liberation War Veterans' Association secretary-general Victor Matemadanda set the agenda last month at a freedom fighters' meeting with chairman Chris Mutsvangwa.
"Therefore, there is a proposal to get them to Chiumburu Farm, where there is more hectarage."
Newly-appointed Masvingo Provincial Affairs minister Shuvai Ben Mahofa was to weigh in saying the government had identified "bigger plots" to resettle the villagers at five-hectare pieces each, though the farm identified is even smaller than Nuanetsi Ranch.
The Lands ministry is said to have deployed teams to start pegging the plots at Chiumburu Farm, although there are no social amenities at the moment.
Mahofa said the farm would be the flood victims' final destination.
ZBE public relations officer Lillian Muungani was not available for comment, although it is reliably understood that the company pledged to fund the relocation of the villagers to Chiumburu Farm.
But villagers, tired of being moved up and down with the few belongings that they were lucky to remain with, have vowed to resist being moved again, saying they are always at the receiving end and bad side of history.
"Oh no, not again! We have endured the nightmarish experience as we were moved from the dam basin, to Chingwizi camp and here," Mejury Rangarirai, who was resettled in the Bongo section of Nuanetsi Ranch, said.
"We do not want a repeat of that as we were left poorer and worse off."
She said she had lost five cattle due to lack of pasture when they were moved.
Another four, she said, were run down by a train that plies the Chiredzi-Bulawayo route.
"Literally, it is a jungle out here," Esnath Muzenda (54) said.
"We bath in the open and some men come to actually peep at us as we bath.
"They bath in the bush. This is how the dam project has demeaned us."
Enoch Chipfuwa (80) from Sekenya village under Chief Shumba said the Tokwe-Mukosi Dam project, which he thought was the panacea to the hunger problem in Masvingo province, had turned out to be a big inconvenience to them because of the continuous movements from one place to the other.
Taurai Wamambo (32) said the government was taking them for a ride by moving them again, saying authorities were being inconsiderate.
He vowed to resist the move.
The ethanol project, to sit on thousands of hectares, is set to create more than 5 000 jobs and 2 000 out-growers from the province, who will supply cane to the ethanol plant.
This is set to revive Masvingo's waning industry and money supply to stir economic activity.
The new plant will compliment the Chisumbanje ethanol project supplies after the latter failed to meet the national demand when the country adopted mandatory blending of petrol.