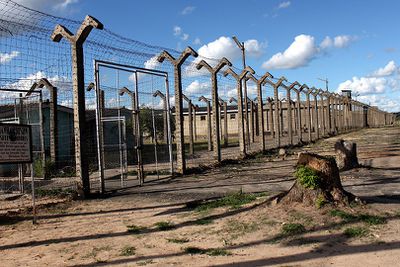 THE deadly riots at Chikurubi Maximum Security Prison that left three inmates dead and several seriously injured last Friday were a manifestation of the mounting economic, political and social problems afflicting Zimbabwe since Zanu PF's hollow 2013 election victory.
According to reports, the riots were caused by disaffection among inmates who complained of poor diet and deteriorating conditions at the prison.
Some of the inmates were reportedly armed and were involved in a gun battle with the police that lasted several hours.
Property worth thousands of dollars was destroyed and a fire that broke out at the correctional facility worsened the situation.
The riots did not come as a surprise as the Zimbabwe Prisons and Correctional Services (ZPCS) has been struggling to feed inmates amid reports that they are surviving on just isitshwala and soup.
There have been countless reports in the past about how inmates die in large numbers due to a poor diet at prisons across the country.
ZPCS says it is getting $300 000 a month instead of $1,5 million from Treasury, making it difficult for it to feed and clothe prisoners.
However, this is not a problem confined to prisons as the whole economy is burning. Zimbabweans are getting increasingly frustrated by rising corruption and worsening economic meltdown that contradicts the promises made by the ruling Zanu PF ahead of the last election.
The party promised two million jobs, but the reality on the ground is that companies are throwing more people out of jobs than they were doing before the elections.
Another riot by commuter transport operators in Bulawayo last week showed how unchecked corruption has become a source of frustration among citizens.
Events of the past few weeks are a call to action to the government, which seems oblivious to the storm that is brewing.
President Robert Mugabe needs to be spending more time at home attending to the economic emergency instead of globetrotting.