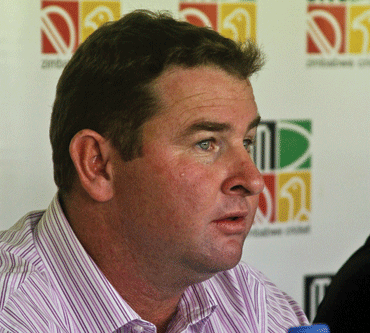 BEFORE the International Cricket Council (ICC) Cricket World Cup 2015 began, it would have been hard to imagine a scenario in which anyone involved with Zimbabwe Cricket (ZC) could have found anything to be pleased about with winning just one out of six games in the group stage. And it is very, very disappointing.
ALISTAIR CAMPBELL
When coach Davenell "Dav" Whatmore spoke about his goal of reaching the quarter-finals, we believed it was a reality. It was not the bluster of a desperate team, we could see it happening.
I played too much cricket in my life to fall back now on "what ifs" and "maybes" so, like the players, I will accept that we were not good enough. One win in six matches. Immense disappointment.
As Zimbabweans, we can be excused for wondering what we did to upset the cricketing gods. As much as we all know that a 50-over one-day international is rarely decided by a single moment, the boundary catch may have been just such an occasion.
As a Test nation playing Ireland, we must admit it should never have been that close. But it was, and the decision went against us. Sean Williams looked like winning the game, but so be it.
I must add my apologies to those of Brendan Taylor and the rest of the squad for the deeply unpleasant article written in the Herald newspaper questioning John Mooney's character in claiming the catch.
You do the best you can as a player and leave the officiating to the officials. It was, in no way, representative of the feelings of players or ZC.
The final game against India gave us reason to smile and feel proud, even though it ended with another defeat. There was an enormous amount of emotion generated by Brendan's decision to spend the next three years of his career playing county cricket for Nottinghamshire and, of course, he will be greatly missed.
He has been our standout player for the last seven or eight years, carrying the burden of responsibility on broad shoulders. His batting record as captain was outstanding – one of very few international players to actually blossom with the added responsibility of leadership.
Rather than creating an unfillable void, perhaps his departure will have the opposite effect. Maybe those batsmen who performed in his shadow, who subconsciously thought: "It's OK, we've got BT to score the runs" will now take on the extra responsibility which will be required. And it will be required.
The future might be bleak. With qualification almost certainly required for the next ICC Cricket World Cup, and ZC facing a battle to attract fixtures in the short and medium term, either home or away, players will need to embrace the fact that their futures lie in their hands.
By winning more games and being consistently more competitive, they will ensure themselves a future.
Far too many people make judgments about the game in Zimbabwe from too far away. There are more cricketers in the country than ever before, more schools are playing than ever before and, despite a desperate shortage of funds, the game is growing – in adversity.
There were moments, well into every single game, where the outcome was in doubt. Chris Gayle survived a first-ball LBW on review before his 215. South Africa were 83 for four. The Ireland game went to the last over . . . Yes, they are "what ifs" and "maybes".
As managing director of ZC I am committed to make us an appreciated force in the world once again. If I didn't believe we had the playing resources to make that happen, I wouldn't be wasting my time.
I just hope the game's global administrators haven't already made up their minds. We need the playing experience from future tours to survive, grow and prosper.
There is no way smaller nations could survive if the big ones play among themselves and ignore us. Let's grow the game all round, not just at the top.
– ICC Development (International) Limited