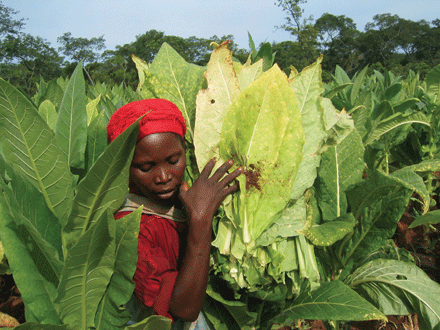 FARMERS in Zvishavane and Insiza have been urged to shun subsistence farming and venture into tobacco farming to raise enough disposable income to fight poverty.
ALLIEWAY NYONI OWN CORRESPONDENT
Speaking at a field day hosted by Never Zvavashe, pioneer of tobacco farming in the Mpalawani resettlement area bordering Zvishavane district, Matabeleland South Agritex officer Chinomukutu Mutizira said there was need for farmers to move from subsistence farming and start growing tobacco as a cash crop as it required little rainfall.
Insiza and Zvishavane districts generally experience low rainfall.
"As agricultural experts we want to thank Zvavashe for making a successful test in trying the tobacco crop in this region," said Mutizira.
"There is clear evidence in the field that tobacco can be a replacement of cotton in this area and I hope all farmers in all the 57 wards are going to try tobacco farming as an income generator rather than practicing subsistence farming. We need to go commercial."
Zvavashe said the idea of tobacco farming came from his colleagues in Mashonaland where they were making a lot of money through the crop and creating employment for locals as it is labour intensive.
Zvavashe planted about three hectares of the crop at his farm and is expected to yield tobacco worth $15 000 by the end of the tobacco farming season in early May.
"Through the aid of the Ministry of Agriculture, I planted about three hectares for a start and I am expecting over $15 000," he said.
"What I have done shows all new farmers across Insiza and Zvishavane districts that our soil and climate is favourable to the plant and high yields will always be experienced."
Agritex officer for Matabelaland South, Jeffrey Mugabe, said the government would make use of Mpalawani Dam for irrigation purposes to support the programme.
"It's fortunate that there is a very huge dam in this area hence the government will assist with irrigation pumps and ideas to all farmers to create a successful tobacco farming project in the southern part of the country," said Mugabe.
Farmers in the resettlement area largely depend on maize and cotton production, but the fall in prices of the latter resulted in them dumping it and tobacco could be a suitable replacement.
Related Topics