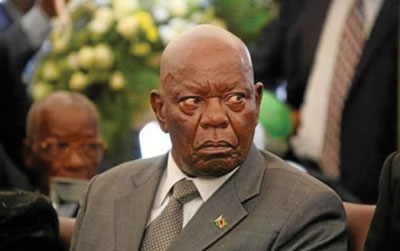 EXPELLED former Zanu PF secretary for administration Didymus Mutasa yesterday warned new party spokesperson Simon Khaya Moyo to be truthful and stand for what he believes instead of pretending.
SILAS NKALA STAFF REPORTER
Mutasa said this in response to Moyo's remarks tearing into the former Presidential Affairs minister for insisting that he would contest by-elections for the Headlands seat on a Zanu PF ticket as his expulsion was illegal.
Moyo described Mutasa's assertion as a "demonic dream".
Moyo served as Zanu PF national chairperson prior to the December 2014 congress and was shoe-in to be vice-president, but was instead demoted to the spokesperson's role once held by the expelled Rugare Gumbo.
Mutasa yesterday vowed to defend his Headlands parliamentary seat.
"Yes, I shall contest. I do not want to let my members down. I will contest as the original Zanu PF candidate," he told Southern Eye.
Mutasa challenged Moyo to be honest to himself and asked if he would repeat what he said about him if he were to be expelled.
"Those are SK's views and I do not agree with him," he said.
"What is demonic about it? He is not the one who expelled me. He is merely a mouthpiece of views that he may not even believe in. Will he say the same when they expel him?"
He questioned Moyo's truthfulness in representing the current Zanu PF interests.
"Was he truly not one of us, one of the gamatox?" he asked.
"We should be truthful about what we are and what we stand for. I remain unlawfully expelled."
Contacted for comment, Moyo said: "I don't comment on tissues, but I comment on issues."
Zanu PF sources last week said Moyo was next in the firing line as they believed he was linked to the "gamatox team" accusing him of failing to denounce the grouping in his statements as party spokesperson.
They said Moyo could have been axed before or soon after the December congress alongside former Vice-President Joice Mujuru and several other party bigwigs, but survived after he and Defence minister Sydney Sekeramayi "privately" apologised to Mugabe and his wife Grace.
Mutasa was expelled from the party recently together with his nephew and Hurungwe West MP Temba Mliswa.
Zanu PF has since written to the Speaker of the National Assembly Jacob Mudenda to declare their seats vacant.