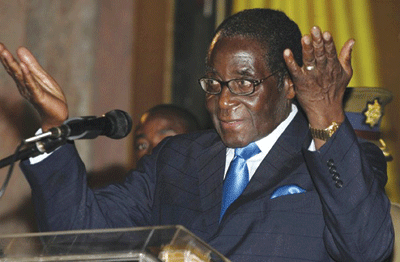 ZANU PF praise-singing of President Robert Mugabe has reached a zenith, with party political commissar Saviour Kasukuwere likening the ageing leader to God.
BLESSED MHLANGA Staff Reporter
Addressing Zanu PF members on Saturday at the launch of Auxillia Mnangagwa's campaigns, Kasukuwere said those who were defiant after losing their posts at the party's congress last year should form their own parties and leave Zanu PF which was led by their god, Mugabe.
"There is only one Zanu PF and it is the one which is led by our god, President Robert Mugabe," he said.
"If they want their party, they should just go ahead and form it and give it a name which is not Zanu PF.
"They can't claim to be the real Zanu PF when they were defeated in elections."
Following the December 2014 congress, there has been a bootlicking stampede, as several Zanu PF officials seek to outdo each other in praising the veteran ruler.
Axed secretary for administration, Didymus Mutasa has maintained that the December 2014 congress was illegal, drawing the ire of senior Zanu PF officials and attracting a backlash from Kasukuwere.
Kasukuwere said Zanu PF was super league material and those who sought to oppose it were playing in the wrong league.
On his part, Vice-President Emmerson Mnangagwa sensationally repeated claims that fired Zanu PF spokesperson Rugare Gumbo was recorded while discussing strategies of removing Mugabe from office even it meant assassinating him.
"Rugare Gumbo was recorded while at the Rainbow Towers, saying by the December 2014 congress they would remove president Mugabe from office, even if it meant killing him," he claimed.
"Mutasa told his girlfriend that he had plans to kill the president.
"I don't know what it was about the girlfriend that excited him to that extent, but the girlfriend later told us about the threats."
Gumbo has, however, dismissed Mnangagwa's claims and accused him of daydreaming before challenging him and government spies to make the recordings public.
"He is daydreaming. What I can say is that is voice morphing, because there is no substance in the allegations. They should just make the recordings public if they have them," he said.
Gumbo rubbished Kasukuwere, whom he labelled a political novice who had no history of the liberation struggle.
"It is them who have formed a new party which they are now calling Zanu PF not us," he said defiantly.
"The party which they front now has an illegal politburo and illegitimate leaders who were not elected by the people.
"We have never moved away from the party which liberated this country and, therefore, cannot be told by novices who have no history or knowledge of that struggle to form a new party."
Turning to Mutasa, Mnangagwa said it was stupid for a person who organised the Zanu PF December 2014 congress to turn around and say it was now illegal.
"Mutasa failed to make it into the central committee because he was defeated during internal party elections in Manicaland," he said.
"He is the one who wrote to notify party structures about the congress and he wrote to invite resolutions and motions for congress from all 10 provinces as secretary for administration, now he turns around to say it was illegal," he said.
Mnangagwa further told the gathering of more than 10 000 supporters that the December 2014 congress was the biggest in the history of the party, attracting more than 12 000 delegates when in the past only around 6 000 to 7 000 attended congresses.
The most popular slogan which was repeated by the few remaining white farmers in Zibagwe was "down with gamatox", a slogan banned by the politburo towards congress last year.
A new slogan was crafted with youths chanting "down with Didymus Mujuru" during the rally held in Zibagwe some 40km outside Kwekwe along Mvuma Road.