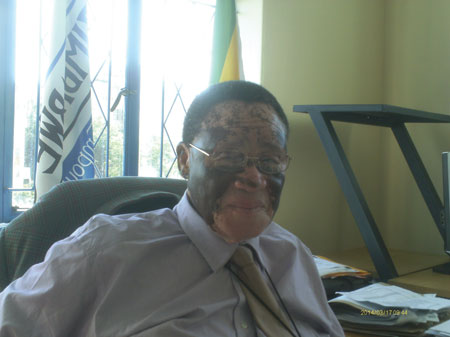 HUNDREDS of people on Friday thronged the Seventh-day Adventist church in Selborne Park, Bulawayo, to bid farewell to professor Misheck Matshazi. BENSON DUBE OWN CORRESPONDENT
Matshazi died on February 13 at Edith Nursing Home in Bulawayo.
The funeral service was attended by politicians from across the political divide, businesspeople, academics, chiefs and the general public.
Speakers praised the good work Matshazi did as an educator and politician.
Prince Peter Zwidekalanga Khumalo recalled how Matshazi had played an advisory role when King Lobengula's descendants planned a trip to KwaZulu Natal in South Africa, where they were received by Chief Gatsha Buthelezi in the 1990s.
"Matshazi advised us on how to go and meet the Zulus as it had been a long time since King Mzilikazi left and we did not know how they were going to receive us," he said.
"We met with Matshazi in December (2014) and told him that the king would be restored and we were meeting in April."
Zapu president Dumiso Dabengwa said they had a hard time convincing city fathers of Matshazi's role, as City Hall was now occupied by people who had scant regard for history.
"Bulawayo is now in the hands of people whose origins we do not know and it was not easy to request that Matshazi be buried where other heroes are buried," he said.
"We have no choice as people voted for them.
"The mayor of Bulawayo, Martin Moyo did not know Matshazi, but after some explanation he accepted the request for Matshazi to be buried at Lady Stanley Cemetery."
Other speakers said Matshazi helped rebuild the University of Zimbabwe's adult education department.
Deposed Vice-President Joice Mujuru is one of Matshazi's prominent products.