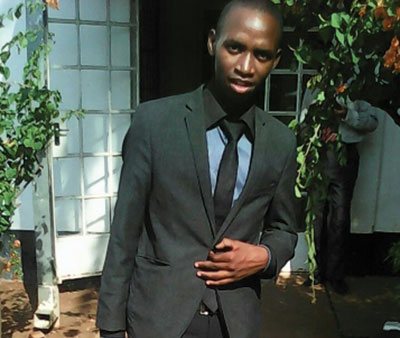 YOUNG Bulawayo author Mkhululi Ndlovu (21) has published his debut book titled The VIP.
MILTON SITHOLE OWN CORRESPONDENT
Ndlovu is a leadership and life skills teacher with a passion to inspire and share the wisdom of living effectively.
He has given motivational speeches at schools, churches, organisations and at many podiums.
In 2013, Ndlovu served as a junior MP and Science and Technology deputy minister in the Junior Parliament.
His debut book extends an invitation to become a VIP, based on vision, values, integrity, identity, inspiration, power, passion and purpose.
He said the inspiration to write the book came after soul-searching sessions on who is and what it takes to be a VIP.
"The inspiration came after I asked myself what it takes to live the VIP kind of life. Thus the book was the answer; it extends an invitation to become a VIP which simply gives out the code that people of influence live by," said Ndlovu.
He authored the book soon after he finished high school, proving that there is no limit to achieving one's dreams.
He further elaborated on how school motivated him to become what he is today.
"Most of my motivation was built from my former school, Mtshabezi High where I studied for 'O' Level and Magwegwe High, 'A' Level," he said.
"I am a speaker and have worked with the National Aids Council and Contemporary Affairs Foundation, just to name a few.
"I would like to encourage my peers to get busy. You can make the rest of your life the best if you embrace the VIP code. No one is going to come and hand you your dream on a silver platter. If you want unreasonable results with your life, you must be willing to be unreasonable."
Ndlovu acknowledges the encouragement and support that he got from veteran writer and historian Pathisa Nyathi, who edited his book.
"I must say Nyathi played a pivotal role as the editor. He was one person I would look to and say to myself 'it is possible'. Discouragement came, but he kept me going," he said.
"The book will not only develop the VIP in you, but will thrust you into living life with a sense of meaning and value. High school students need it, corporates must have it; it cuts through all age groups.
"Families must have it, as it will make us dig deep into our greatness and live effectively."