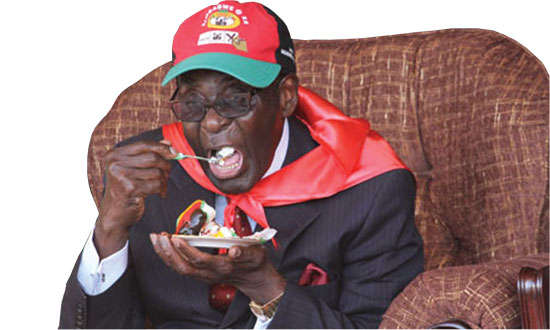 PRESIDENT Robert Mugabe turns 91 tomorrow amid mixed feelings over his 34 years stay in power, but even his fiery critics agree the veteran Zanu PF leader is the plastic-steel glue that has kept his faction-riddled Zanu PF and the highly polarised country intact.
Njabulo Ncube Deputy Editor
Born in Kutama Mission on February 21 1924, Mugabe has maintained an octopus-grip on power, since independence from Britain in 1980 albeit under controversial circumstances.
For instance just three days before his 91st birthday, Mugabe presided over a politburo meeting which expelled from the party his former side-kick and Zanu PF secretary for administration Didymus Mutasa ostensibly for undermining his authority, among a myriad of charges.
Mutasa's expulsion comes in the backcloth of a major purge of perceived internal opponents Mugabe instituted in December last year allegedly at the behest of his wife, Grace, the new Zanu PF Women's League boss.
A Machiavellian politician he is, Mugabe has continued to dazzle political opponents despite his age with fiery critics pointing out the father of three has no qualms in taking down the country with him.
"While the MDC would like to wish Robert Mugabe a happy 91st birthday on February 21 2015, we would like the old man to use his birthday as a moment for serious reflection. At the very ripe age of 91, Robert Mugabe is certainly way past his prime," said Obert Gutu, the MDC-T spokesman.
"No matter what his Zanu PF spin doctors might want to say, Mugabe has seen better days and he is now a big liability to the generality of the people of Zimbabwe for as long as he remains as the county's head of State and chief executive. It doesn't need rocket science for one to appreciate that a 91-year-old man belongs to an old people's home and not to the State House of a nation."
Love him or hate him, the veteran Zanu PF politician has been a key figure in the struggle for Zimbabwe's independence, which involved a bitter bush war against a white minority which had cut the country loose from the colonial power Britain.
When he was first elected in 1980 he was praised for reaching out to the white minority and his political rivals, as well as for what was considered a pragmatic approach to the economy.
However, he soon expelled from his government of national unity Zapu led by the late Vice-President Joshua Nkomo, whose stronghold was in the south of the country, and launched an anti-opposition campaign in which thousands died.
In the mid-1990s he embarked on a programme of land redistribution, in which commercial farmers were driven off the land by mobs. The programme was accompanied by a steady decline in the economy.
As the opposition to his rule increased, he and his ruling Zanu-PF party grew more determined to stay in power. Critics accuse him of heading a military regime.
In the elections of 2008, Zanu-PF lost its parliamentary majority and opposition leader Morgan Tsvangirai defeated Mugabe in the presidential vote, but with insufficient votes to avoid a run-off.
Mugabe was sworn in for another term in June 2008 after a widely-condemned run-off vote from which Tsvangirai withdrew, citing attacks on his supporters.
Under international pressure, Mugabe agreed a power-sharing deal with Tsvangirai, who was made prime minister.
However, Mugabe made no secret of his distaste for the arrangement and Tsvangirai complained of lack of co-operation and a return of violence against his party's supporters.
After years of wrangling, the two parties in early 2013 agreed on a new constitution, which was overwhelmingly approved at a referendum in March.
It curbs the president's powers, sets a two-term limit for the office, abolishes the post of prime minister, creates elected provincial legislatures and establishes a constitutional court.
Mugabe was able to govern alone again after winning 61% of the vote against 34% for Tsvangirai in the 2013 election, while Zanu-PF party clinched a two-thirds majority in Parliament. Tsvangirai dismissed the polls as fraudulent.
In late 2014, the president fired Vice-President Joyce Mujuru and seven ministers, accusing them of being involved in a plot to kill him. Mujuru denied the allegation.
Ideologically, Mugabe belongs to the African liberationist tradition of the 1960s – strong and ruthless leadership, anti-Western, suspicious of capitalism and deeply intolerant of dissent and opposition.
Under controversial circumstances in July 31 2013, Mugabe, then 89, defeated Tsvangirai, in what critics viewed as a major setback for a man who for many years posed the only credible challenge to Mugabe.
In the meantime, a lavish bash has been lined up for next Saturday at the hot resort town of Victoria Falls in which an estimated 20 000 guests are envisaged to grace the occasion expected to gobble more than a million dollars.
– Additional Reporting BBC.