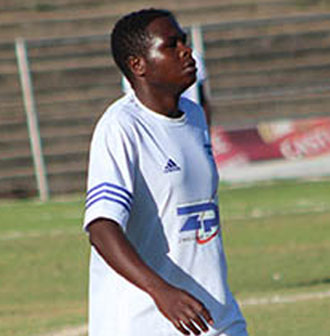 HOW MINE's newly-acquired veteran striker Limited Chikafa will soon be going for surgery and hopefully will be fit when the 2015 Castle Lager Premier Soccer League (PSL) season starts after he dislocated a cheek bone a in pre-season practice match against Black Boots.
FORTUNE MBELE SPORTS REPORTER
It was How Mine's first pre-season friendly match. The gold miners have now played five and the 2014 PSL soccer star of the year, will miss a friendly match against newly-promoted Whawha FC at the mine on Sunday.
Chikafa joined How Mine this year from ZPC Kariba.
How Mine head coach Luke Masomere confirmed the veteran striker's injury yesterday.
"Chikafa dislocated a cheek bone in our first game against Black Boots," the coach said.
"He will be going for an operation anytime soon. It's not anything serious. He will be back soon, It's just minor, but he will not be available when we play Whawha on Sunday at our training ground.
"This should be our fifth training game and we are looking forward to a good pre-season practice match.
He added: "We are currently on 55% in fitness levels and we should be 65% when the season starts."
Last Friday, How Mine played two matches with Chicken Inn, which ended in 2-2 and 3-3 draws, respectively.
Touted as one of the strongest squads this year, How Mine have snatched top players who include Chikafa, Tawanda Muparati, Devon Chafa, Charles Sibanda, Tapiwa Kumbuyani, striker Benjamin Marere and goalkeeper Munyaradzi Diya.
They also have Kudakwashe Musharu, Menard Mupera, Gilbert Banda, Wonder Sithole, Timothy January and Thembani Masuku.
However, the notion has been dismissed by the self-professed doctor of football, Masomere, who said How Mine would be proven to have the best squad, when they win games.
It's a PSL test for Whawha, who are coached by Luke Petros and make their debut appearance in top-flight football after winning the Zifa Central Region Division One League last year.
Whawha have the likes of Albert Matewu, Matthew Urayayi, Paddington Magurutse, Ray Hussein, Kenneth Bhuka, Blessed Chikwekwete, Simbarashe Zimora, Stanley Chakwanha and Livingstone Genti, among other players.
Former FC Platinum head coach Lloyd Mutasa, employed by the team's funders — Zimbabwe Prisons and Correctional Services — is the club's technical advisor.