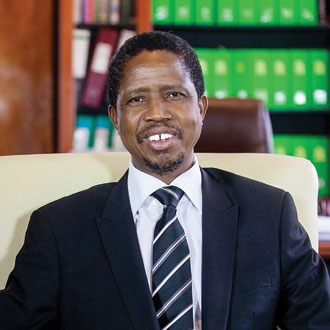 RECENTLY-elected Zambian President Edgar Lungu will officially open the 2015 edition of the Zimbabwe International Trade Fair (ZITF), which will be held in Bulawayo from April 21 to 25. BATANAI MUTASA OWN CORRESPONDENT
Industry and Commerce minister Mike Bimha told a press briefing at Trade Fair Grounds yesterday that the invite would strengthen ties between the two countries even further.
"The government has approved the recommendation to invite His Excellency the President of Zambia, Honourable Edgar Lungu to be the guest of honour for ZITF 2015," he said.
"You are aware that Zambia is one of our major trading partners and we have many historical and cultural ties between us and there is quite a lot happening in Zambia in terms of economy and we would like to strengthen our ties even further."
The previous edition of ZITF was also officially opened by a Zambian president, the late Michael Sata, Lungu's predecessor.
Bimha said the recommendation was a deliberate attempt to strengthen efforts to promote trade between the two countries.
Mugabe and Lungu enjoy cordial relations with the Zimbabwean leader flying to Zambia days before election results were announced to attend the inauguration.
Earlier this month, Lungu was in Zimababwe for his first official visit outside Zambia and he had also visited Mugabe before the elections, with analysts saying he was looking for advice.
During yesterday's press briefing, Bimha commended ZITF management for making notable progress towards making the 2015 fair a success.
"I'm very delighted that our ZITF board and management have progressed well and I'm advised that 80% of exhibition space has already been taken up," he said.
This year's trade fair will run under the theme "Simulating Trade: Seizing opportunities to accelerate growth".
Related Topics