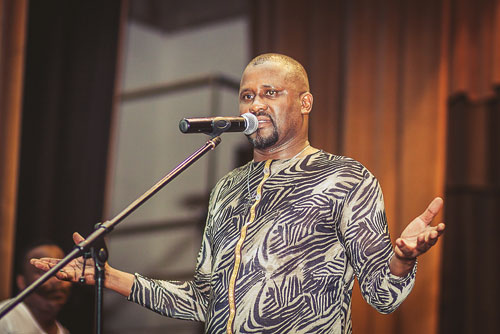 SOUTH AFRICAN music superstar Ringo Madlingozi salvaged an otherwise failing Groove Entertainment pre-Valentine's show with a top-drawer performance at the Large City Hall, Bulawayo, on Friday night.
BATANAI MUTASA OWN CORRESPONDENT
He was initially billed to perform alongside local guru Oliver "Tuku" Mtukudzi, who, however, failed to turn up after being taken ill on the same day.
Ringo and Mtukudzi have in the past collaborated on the hit track Into Yami.
Although people present at the show expressed dismay at Mtukudzi's absence with many turning back at the door, Ringo injected life into the event when he took to the stage.
The Sondela S'thandwa hit-maker got people singing and dancing from midnight when he performed a befitting Valentine's Day song Ngiyakuthanda.
The hall was not packed, but this did not seem to deter Ringo fusing his performance with sing-along tracks like Isiphithipithi, Buyisa, Into Yami and instrumentals of his songs.
He introduced one guest artiste identified as Zuri, a jazz graduate from Wits University, and she got the crowd dancing to her song Burn The Money.
Ringo wished Tuku a speedy recovery.
"Wake up Tuku, we are waiting for you," he said.
He, however, bemoaned his failure to have many collaborations with local musicians.
"I did only one collaboration with a Zimbabwean and I thought I was going to do another with (Alick) Macheso, but I don't know where he is now and Victor (Kunonga), but I saw that he was working with bra Hugh (Masekela) so it's alright," Ringo added.
The South African singer promised to return to Bulawayo for a compensation show with Tuku after his recovery.
"I know I will be back," he said. "We actually spoke about this with the organisers and said we would find another time to re-do this show.
"Zimbabwe is an extension of my home. I'm not here for the first time; I've been coming here for 10 to 15 years so I'm always welcome here."
When it started, the show looked like a damp squib with Groove club DJs and Iyasa generally failing to jump start the unresponsive light crowd.
This did not deter all the entertainers and they complemented each other well by providing spirited dancing acts.
Many people had complained that they felt cheated; accusing the show organisers of swindling them out of their money by lying that Mtukudzi would be available.
The organisers, however, maintained that it was a sudden illness, but could not facilitate much towards compensation as Ringo, an international artiste was available and still had to be paid to extend his stage time and cover up for Tuku.
Despite a relatively low attendance, the show proved to be a success.
"I wish this show could go on and on. I just missed mukoma Tuku, but you know the show must go on," said Ringo in his parting comments after the show.