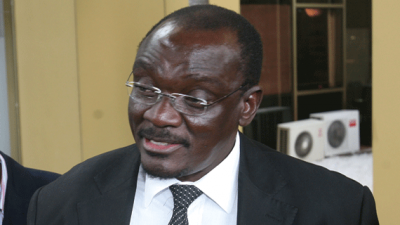 HOME Affairs minister Kembo Mohadi could be heading into another bruising legal battle after a private pegger gave him mining claims on a wildlife sanctuary, Longueville Farm, in Gwanda, belonging to a war veteran and former police commander, Andrew Mupungu.
RICHARD MUPONDE SENIOR REPORTER
The pegger, identified as Brighton Kwaipa, is licensed by the Mines and Mining Development ministry to peg mines in Matabeleland South.
He reportedly pegged five blocks of the wildlife sanctuary, which translated into 50 hectares of land, reportedly without advising Mupungu in April 2014.
To make matters worse, the area Kwaipa pegged the main shaft is inhabited by zebras and a large number of pythons — a protected species under Zimbabwean law.
The farm has large numbers of sables, kudus, elands, impalas, guinea fowls and waterbucks.
Efforts to get a comment from Mohadi and Kwaipa were fruitless as they could not be reached on their mobile phones.
However, Mupungu, a former Bulawayo-based Criminal Investigations Department Law and Order Section commander, yesterday confirmed the developments to Southern Eye.
"Kwaipa is the one who pegged the area without my knowledge," Mupungu said.
"The law says if peggers are given the right to peg, they should advise the owner of the land if it belongs to a private person like me. If he had informed me I could have spoken to Mohadi.
"I am a war veteran; we meet and he's my former minister. If I had been given that chance, I was going to tell him that I keep wildlife and that doesn't go hand in hand with mining.
"The damage has already been done and there is no remedy as the paperwork is now complete."
Mupungu said he was seeking legal advice to stop the acquisition of his land before Mohadi invests money developing the mining claims.
Mupungu said coincidentally, Kwaipa pegged mining claims for his (Mupungu) Pioneer Syndicate in Filabusi where he also later pegged for another person identified as Eziel Dube, creating a dispute.
"I gathered that last week Mohadi's brother went to my farm with surveyors to set in motion the mining," he said.
"I don't know whether it's deliberate that Kwaipa created a dispute for us in Filabusi in 2013, which is still ongoing, and in Gwanda he has created a conflict for me with the minister."
A new legal battle in this matter could weigh heavily on Mohadi's reputation as he has been at the Bulawayo High Court several times over claims that his family members wanted to grab land from villagers.
He has been linked to company grabs.